Ceatus CEO, Dr Evans, Featured in Modern Aesthetics March/April 2016 Issue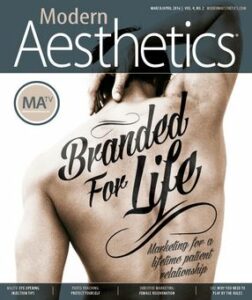 Dr David Evans, the CEO of Ceatus Media Group, has recently been asked to write a regular column in the bi-monthly print and online magazine Modern Aesthetics. Dr Evans expertise is widely recognized as he speaks frequently at eye care, plastic surgery and dentistry conferences about online marketing, social media and reviews management.
This month's issue focuses on the necessity of a reviews strategy for every practice and the components a reviews strategy should have.
Dr Evans article identifies the three important components of a powerful reviews strategy, including monitoring the major review sites, effectively soliciting positive reviews and publishing these reviews (4's and 5's star reviews) on your website.
Dr Evans also discusses the "Blemish Effect" which first derived from a study published by Stanford University Business School.  The study found that a pristine 5-star image is not believable, and that a few negative reviews can actually help your online reputation. The key is to have numerous positive reviews to offset these few "blemishes."
To learn more about the Ceatus Reviews Strategy, please contact us at 858-454-5505 (Ask for Matt Ryan).
To read the full article, click here: http://modernaesthetics.com/2016/04/revealed-your-winning-online-review-strategy#1.