Baby Boomers, the Internet and High End Procedures
Everyone appears to be aware that Millennials are online, all the time. In fact, we are often asked how to market to this younger demographic. Obviously, the answer is through digital strategies.
However, while there is no doubt that reaching this young, powerful age group is worthwhile, it is often accomplished at the expense of the other end of the demographic spectrum, the Baby Boomers. From a revenue standpoint, this is a big mistake. Baby Boomers have the financial resources and are prime candidates for high-end procedures like facelift, premium cataract surgery, and dentures/dental implants. So how do you effectively market to Baby Boomers? Perhaps surprisingly, the Internet is particularly effective for marketing to this group as well.
In this blog post we would like to share with you some statistics relating to Internet use for the aging population.
First, Internet use is on the rapid rise among the older Baby Boomers, and this is being driven primarily by their adoption of smartphones. According to Stellar, ownership of smartphones by seniors has tripled in the last five years. More importantly for our target market – prospective patients with disposable income – 81% of seniors with household incomes above $75,000 per year report owning a smartphone. What this means is that regardless of the age of your target audience, they will go online to learn about procedures they are interested in and the doctors that they are considering to perform them.
Data from Statista, shown in the graph below, confirm this trend. Fully 66% of prospective patients over the age of 65 now use the Internet every day.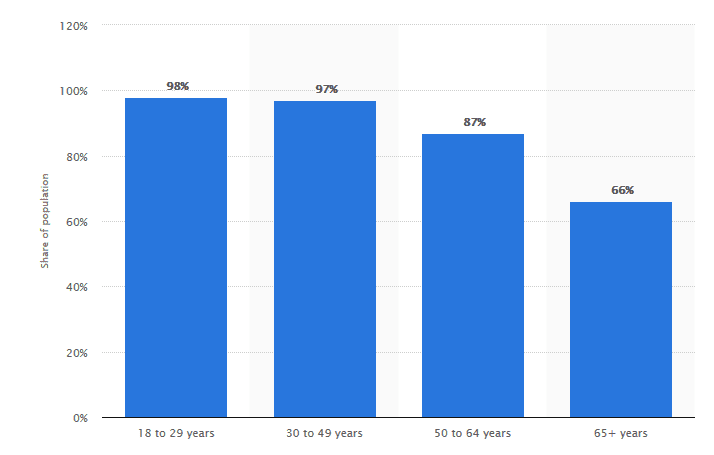 The Bottom Line:
Your Internet presence is very important for attracting older patients for specific target high-end procedures.  They are online in unprecedented numbers and this continues to grow so the various marketing modalities you use, including your website and social media, should also focus on their needs and interests so that you can maximize your digital marketing ROI. Further, given the level of smartphone usage by seniors now, the mobile version of your website is very important for capturing this age group.
We hope this information is helpful. Please let us know if you would like to discuss targeting the aging Baby Boomer demographic or if we can answer any other questions about your Internet strategies, by contacting us here.