Digital Success with Social Media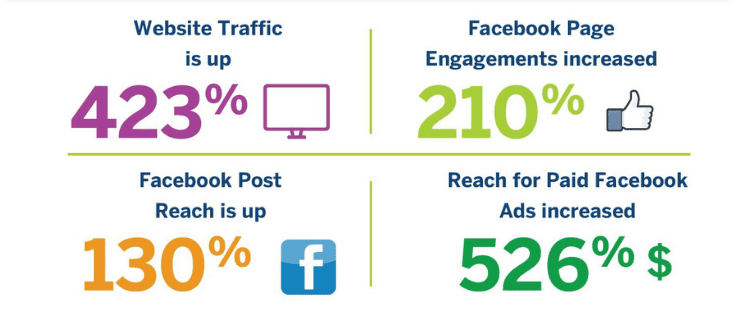 Background:
A well-known North Bay Area dentistry practice specializing in cosmetic and implant dentistry, began working with CEATUS in early 2016. Since then, they have purchased a variety of services from CEATUS, including:
Social Media
Website Design
Content Development
Search Engine Optimization (SEO)
Search Engine Marketing (SEM)
Reviews Management
Lead-Generating Directory Listings
Challenge:
When the dental practice initially approached CEATUS for help with their Digital Marketing, they had a minimal website presence. The website was in need of an update, as it was neither mobile-friendly nor responsive, and the site had virtually no rankings on Google for search terms related to their preferred procedures, which greatly affected their online visibility. In addition to creating a new, patient-converting Website, CEATUS implemented a very successful Digital Marketing Strategy that included not only SEO to boost their rankings, but also a full range of services to fill out their online reputation and digital footprint, including Reviews Management, SEM and social media. The practice achieved immediate off-the-chart visibility which led to increased leads, patient volume and practice revenue. After several years of realizing the benefits of CEATUS' Digital Marketing Strategies, COVID hit, bringing with it all of the challenges of maintaining a Dental practice during this unprecedented time. They wanted to jump start their practice volume and not just sit around and have the practice become a COVID victim, like so many other dentists.
Solution:
To address the formidable challenges posed by COVID, CEATUS immediately implemented several strategies. Recognizing that it was critical for the practice to continue to provide accessible care to their patients and prospective patients, CEATUS created a Virtual Consult page for the website. CEATUS also developed a PPC campaign to specifically promote and generate patient volume for the high-end procedures they lost during the COVID shut down. And because during this chaotic time, consumers were often confused about how to connect with their healthcare providers, CEATUS expanded the practice's Social Media to a more customized package.
Results:
The results of this multi-punch strategy have been astounding. The practice's well-planned and more influential Social Media Campaign was carefully timed and coordinated with their Google Ad Campaign. Coupled with the implementation of their virtual consult page, this created many new opportunities. The practice has witnessed dramatic increase in both virtual and in-person consults. Most importantly, the actions CEATUS took on their behalf in response to the challenges posed by COVID led to a surge in bookings of high-end new patients seeking Dental Implants and Smile Makeovers, leading to the practice having their best months on record.
Consider some of the benefits they experienced:
Increased website traffic
More patients
Higher surgical volume
Lower cost
Greater presence in markets
And the statistics tell it all:
Website Traffic is up 423%
New Prospective Patients spent 250% more time on Website
Leads are up 733%
Engaged Facebook Users increased 2300%
Facebook Page Engagements increased 210%
Facebook Post Engagement increased 150%
Facebook Post Reach is up by 130%
Reach for Paid Facebook Ads increased 526%