New Design Dramatically Increases Traffic and Leads


Background:
Dr. Joshua Greenwald, MD, is a board-certified plastic surgeon in Harrison, Carmel, and Manhattan, NY, with 20 years of experience. He began working with CEATUS in 2006.
Dr. Greenwald has experienced ongoing Digital Marketing success thanks to a complementary suite of services purchased from CEATUS, including website design, search engine optimization, custom content, reviews management and lead-generation listings in CEATUS' powerful consumer education portal, Consumer Guide to Plastic Surgery. His updated website has the power of design, structure, code, and SEO — all the elements necessary to increase his patient leads and conversion!
Challenge:
CEATUS designed Dr. Greenwald's first website in 2010. For years the site was very successful, attracting and converting a high volume of patients. But as with all things Digital, what had previously been state-of-the art was now becoming somewhat dated. Furthermore, as he expanded his business, the site had become cluttered because new sections and additional pages of content were required to keep up with his growing practice. In 2018 a decision was made to redesign and update the site.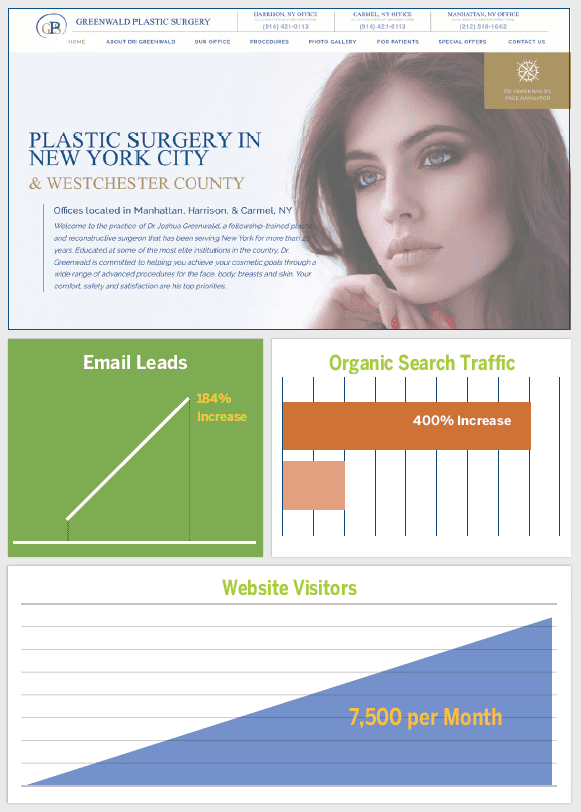 Solution:
CEATUS recognized that a new website was needed to keep Dr. Greenwald's practice growing. In addition to enhancing the aesthetics, CEATUS made several improvements aimed at making it easier for potential patients to interact with the website. On the backend, CEATUS leveraged the latest technologies to ensure that adjustments were made to account for Google's latest algorithm updates and ensuring that Dr. Greenwald's new website ranked high for the key terms he needed to ensure practice success.
Results:
Dr. Greenwald's new website launched in December 2018. As a result of his new website, traffic from organic searches (Google searches) increased by an astounding 400%, (76% in the last year alone). And as if that wasn't enough, his email leads exploded — increasing by an incredible 184%! Dr. Greenwald's site now receives an average of 7,500 visitors/month from organic searches.