Ceatus Executives Invited to Speak at ESCRS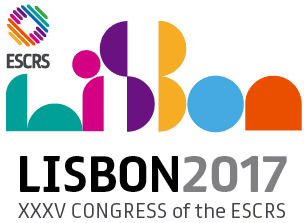 For the sixth year in a row, Ceatus executives have been invited to present instructional courses about digital marketing at the annual European Society of Cataract and Refractive Surgeons (ESCRS) meeting. The meeting will be held this year in Lisbon, Portugal from Oct 7 through the 11th. ESCRS draws over 15,000 eye surgeons and staff members from around the world; primarily Europe and the Middle East.
Dr David Evans, Ceatus CEO, will be presenting two instructional courses, one as part of the main ESCRS curriculum and the second as part of a one-day specialized session for Practice Management.  His presentation for the main curriculum will focus on the best practices for digital marketing to enhance practice growth. During the Practice Management Programme, Monday Oct 9, he will describe how to create a dominant online reputation using a comprehensive reviews strategy. Case reports will be presented as part of both lectures.
Ms Tamara Evans, Ceatus VP of Marketing, has also been invited to share her expertise on social media marketing for premium eye care practices, also on the main ESCRS curriculum. She will explain how to optimize social media strategies to obtain outstanding ROI for your marketing dollars and spur new patient acquisition.
If you are attending ESCRS, please come by our lectures.
"Effective Digital Marketing and Social Media Strategies that Increase Patient Volume"
Tamara Evans
Sunday, October 8
5:00pm – 6:00pm
Room 4.4
"Search Engine Optimization and Reviews to Grow your Practice"
David Evans, PhD
Monday, October 9
8:00am – 9:00am
Practice Management Programme, Meeting Center Rm II
"Internet Marketing in the Digital Age: How to Achieve Practice Success"
David Evans, PhD
Monday, October 9
5:00pm – 6:00pm
Room 4.6
If you have any questions or would like a free assessment of your Digital strategy, including your website, SEO or online reputation, visit us in Booth P174 and speak with one of our experienced Internet Marketing Consultants. We look forward to making you acquaintance.