Ceatus Exhibits at the Rhinoplasty Society Meeting and ASAPS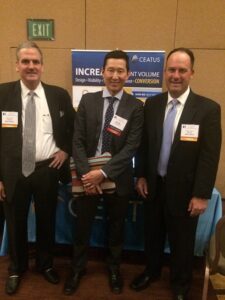 Ceatus exhibited at the Rhinoplasty Society Meeting on Saturday, April 2nd.  It was a great opportunity to speak, in person, with many of our wonderful clients who were there as well!
Ceatus is also happy to announce that for the 10th year in a row, it will be exhibiting at the upcoming American Society for Aesthetic Plastic Surgery (ASAPS) Meeting from April 4 to 6 (Booth # 1242). Both meetings are being held in Las Vegas at the Mandalay Bay Resort.
Our experienced Digital Marketing Experts will be available in the booth to explain effective strategies for creating a dominant online presence using advanced website development, sophisticated SEO and comprehensive online marketing strategies. Of particular import are the Ceatus Reviews Manager and the three Medical Advice Websites owned and operated by Ceatus. Ceatus is unique in the industry as the only company that offers this full range of Services.
Ceatus personnel will be available to perform an analysis of the online strategies for plastic surgeons.
Also, don't miss Dr. Evans' presentation entitled "Google Doesn't Rank Surgeons it Ranks Websites," on Monday, April 4, 2016, from 3:20 – 3:30 PM at the Practice Changers Theater (Located in the Aesthetic Marketplace.)