Ceatus VP of Marketing, Tamara Evans, Gives Standing Room Only Presentation at ASCRS about Measuring Social Media ROI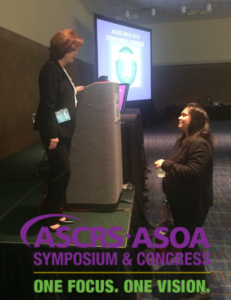 Ms. Evans was invited to present at the recent ASCRS/ASOA meeting in New Orleans.  Her course, entitled "How Do I Measure Social Media ROI", touched upon the pros, cons and bottom line of the various social media platforms as well as how to leverage these platforms for maximum ROI.  In addition to providing examples of successful content, she also addressed engagement pitfalls and the importance of online reviews on your social media sites.
With her Masters of Science degree in Statistics, Ms. Evans took a mathematical approach to social media engagement and showcased her proprietary social media ROI calculations. These formulas included 3 measurements of social media engagement; Post Engagement Percentage, Total Engagement Percentage and Post Reach Ratio.
The audience was very engaged and this topic garnered a lot of attendees and questions. One big takeaway was that by leveraging your social media and your online reviews you can leave an online footprint that increases patient volume and retention.
Questions about your social media engagement? Call one our experienced Digital Marketing Consultants for a FREE Social Media Consultation at 858-454-5505 or email us at contactceatus@ceatus.com.