David Evans', PhD, Highlighted in Daily Coverage video from Caribbean Eye Meeting 2016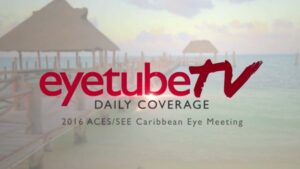 Dr David Evans, CEO of Ceatus Media Group, gave a "standing-room" only presentation in the practice management session at the recent Caribbean Eye Meeting. The title of the presentation was "Dress for Success: Online Images Count," and the focus was on Reviews Management. After the presentation, a summary of the key points was chosen for inclusion in the Caribbean Eye Meeting Daily Coverage video that is distributed to 40,000 eye doctors, industry experts and practice administrators each day of the meeting.
Dr Evans presentation occurred on Sunday, Feb 7th and the Daily Coverage video was distributed that afternoon. In the video,  Dr Evans is being interviewed by Dr Craig Piso who asked Dr Evans to delve into the importance of reviews and how they are related to the overall surgeon and practice online presence and to social media. Click here to watch the interview: https://www.youtube.com/watch?v=IaTJcQognng.