"Board-Certified" SEO: The REAL DEAL!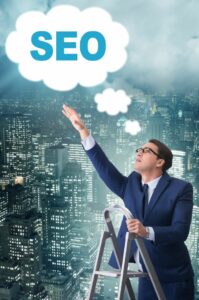 OK, so of course there is no such thing as board certification for SEO. However, there are professional SEO companies. How do you tell the difference between the professionals who can give you a wide-reaching, powerful online footprint and those who essentially take a weekend course and hang out their shingle?
Results!
The Professionals: A Case Study in Quality
Dr. Gregory Pamel, our client and good friend of many years, was recently contacted by the editor of Page Six, New York Post's famed society section, for an interview. The editor needed an expert to ask about the eye condition of a well-known celebrity in a high-profile lawsuit. She learned about Dr. Pamel on Google, where he appeared at the top of the search results for the search "New York keratoconus." Dr. Pamel was interviewed on a Friday afternoon, the article appeared on Sunday and, as you can imagine, his phone started ringing Monday. The article gave him incredible local press and widespread visibility.
This example should remind everyone of the importance of search engine optimization (SEO), the never-ending changes Google makes to its search algorithm and, therefore, why it is so important to understand how real SEO is performed.
The Phonies
As the digital and healthcare knowledge, and skill, required to perform real SEO escalates, more and more marketing companies try to downplay SEO. Their protestations vary, but they all share one thing in common: they're covering up the fact that they can't do it. In other words, "Methinks the Lady Doth Protest Too Much."
Some companies tell their clients that "SEO is Dead" and try to sell them a "replacement" service. Usually this is nothing more than an attempt to justify why their clients aren't getting good results. But regardless of their motivation, they're wrong. SEO is not dead. In fact, nothing could be further from the truth. SEO is alive and well!
Another common ploy is to suggest that SEO is just a straightforward process that can be performed in pieces. Companies peddling this nonsense frequently make promises relating to "SEO touch points," "SEO press releases," "SEO blog posts" and so forth, the implication being that your level of SEO success is a function of how many of these "increments" you buy. "For only $1,500 per month, you receive 10,000 SEO touch points," they say. "If you pay $1,800 you receive 15,000 touch points." But these types of programs are pure snake oil – as you will quickly learn if you ask the companies selling them to define the so-called "touch points." More importantly, the tactics used in these programs don't work and, in some cases, even elicit penalties from Google, harming the clients' Internet presence.
A third tactic has the potential to do great harm to your Internet presence. This happens when inexpert companies attempt to deliver on their vague promises that they will "get you top rankings" for the high-value procedure terms, such as "LASIK surgery Manhattan" or "cataract surgery New York," and then proceed to contort your site and content in "strange" ways that damage both your performance on Google and your patient conversion, to the detriment of the practice. Willingness on the part of a company to use these types of tactics is a sure sign that they really don't understand how Google works.
In the Case Study above, Dr. Pamel's site, having been consistently SEO'd properly, does rank on the first page of Google for these high-value terms. But additionally, it has been designed to rank for hundreds of other high-quality terms related to his specialty, including terms associated with corneal conditions and treatments, like keratoconus. That's how the professionals do it.
SEO Then and Now
Admittedly, SEO did used to be fairly elementary, formulaic and piecemeal; stuff a few key words on a page (the sentences didn't even have to make sense), add a few links and voila, rankings improved. And frankly, a few years ago, any moderately intelligent "techy" person could have some success with SEO — no healthcare understanding or marketing savvy required. Ahh, the good ole days…
Alas, all "good" things must come to an end. SEO is now much more complicated, and only a handful of companies, like Ceatus, are still good at it. Now Google rankings are based on a complex interaction between the website structure, code, content, links, local citations, social media engagement and online reputation. It's as if Google is able to read and comprehend the actual content while evaluating the information in the context of other online information about you, your practice and the world of healthcare. Bottom line: amateur hour is over.
Lessons Learned Here
Dr. Pamel's example is a case study in good SEO. Effective SEO programs are created from the ground up to leverage all attributes of the practice and its areas of specialization. The strategies they employ must be comprehensive and crafted to present the website as a unique resource for the various areas the practice encompasses. The site's design and the way the site communicates its message to and interacts with its visitors (Google knows) also must be expertly crafted.
A comprehensive SEO program builds a foundation that raises the overall value of the website. Google, in turn, ranks the site well. Turns out, the same types of content and website attributes that impress Google, also impress prospective patients (and obviously, newspaper editors). Consumers easily find and then visit the site, read the educational content, are impressed by the attractive design (particularly on mobile platforms) and a bond is formed — now they are prospective patients.
Effective SEO strategies make practices and doctors stand out in the crowd. If carried out effectively, an SEO strategy attracts not only new patients, but also PR opportunities like the Page Six article.
CEATUS Case Study of the Month
Mad Dash for Nash

World-Renowned Smile Makeover Expert's Practice Revenue Explodes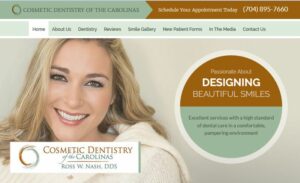 Background: Dr. Ross Nash is an internationally-recognized cosmetic dentist. Located in the Charlotte, NC, area, Dr. Nash has rejuvenated the smiles of many celebrities and beauty contest winners.
Problem: Over the course of 20 years, several different Internet marketing companies had managed the online image of Dr. Nash's private dental practice, but with limited success. Dr. Nash needed and wanted a POSITIVE change.
Solution: Beginning in the spring of 2016, Ceatus began reshaping Dr. Nash's online strategy and footprint. In the ensuing months a stunning new website was launched which projected Dr. Nash's true reputation as a world-renowned smile makeover expert and incorporated actual patients from Dr. Nash's successful career, including the recent winner of the Mrs. North Carolina pageant. New SEO strategies were implemented to more effectively build his rankings and traffic on Google as well as the other search engines. The practice also implemented the new Ceatus Review Manager program, which had the effect of creating a highly positive online reputation footprint for Dr. Nash. He then capitalized on this powerful reviews strategy to generate new patients.
Results: All of these elements immediately began to boost the number of incoming phone calls for high-end veneers cases. These new patients had similar comments when Dr. Nash and his staff asked how they had heard of the practice. Many said they searched online using terms like "dental veneers" or "smile makeover," found Dr. Nash's beautiful new website, read his reviews and then called his office to schedule an appointment. The growth in new patient cases has been so pronounced that the practice posted its best revenue month ever in October 2016. This success is due to Dr. Nash's great skill, experience and outstanding patient results, and the development of a comprehensive strategy to harness his outstanding reputation and communicate it to prospective patients online. Congratulations to Dr. Nash and his team for great patient outcomes and success with the new online image.

Ask the Experts
Q: How do I take advantage of Facebook Live?
A: Facebook Live can be used to educate potential patients on the procedures you offer – sort of like a virtual patient seminar. As an added bonus, not only does it reach those that sign up (ask us about this option), it is also available to the 1.66 billion people on Facebook – in real-time and for later viewing. Facebook Live allows watchers to engage with your practice, type in questions and get real-time answers. It can also be easily promoted through your Facebook page and e-blasts, and in your practice.
Going Live in 3…2…1!
Interested? Call us today at 858-454-5505 or email us at contactceatus@ceatus.com to learn more about our Facebook Live program.
Events: Maximize Your Internet Strategy
Come by the Ceatus booth for a FREE website evaluation!
Cancun, Mexico
February 3-6, 2017
Booth 6
Stop by and meet the Ceatus Digital Marketing experts at the Caribbean Eye meeting.
Also, Ceatus CEO David Evans, PhD, will be leading a discussion focusing on reviews strategies and how they affect your practice's success. So don't miss it!
Raving Reviews=Revenue
Saturday, February 4, 2017
8:27 AM – 8:34 PM

Chicago, Illinois
February 23-25, 2016
Booth 4327
Looking to defy winter and heat up your Digital Marketing strategy? Visit the Ceatus team at Booth 4327 for a FREE Digital Marketing evaluation!
In the Holiday Spirits!
Ceatus employees provide holiday drink recommendations to spread the cheer and fun this holiday season!
CEO
David Evans, PhD, MBA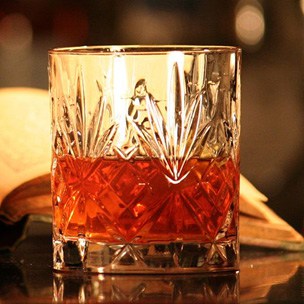 Sazerac
Ingredients:
1 cube or 1/2 teaspoon sugar
4 dashes Peychaud Bitters
Splash water, about 1/2 teaspoon
2 ounces rye whiskey
Splash Herbsaint (or Pernod), about 1/2 teaspoon
Lemon peel (garnish)
Ice
1. In old-fashioned glass, add ice and set aside.
2. In another, combine sugar, bitters, and water.
3. Muddle until sugar is completely dissolved.
4. Add rye whiskey, fill with ice, and stir well.
5. From first glass, discard ice, then add Herbsaint.
6. Holding glass horizontally, turn it so that Herbsaint completely coats the interior.
7. Strain contents of second glass into chilled glass.
8. Twist lemon peel directly over drink to release essential oils, and serve.
Writing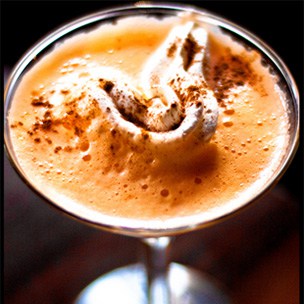 Pumpkin Pie Martini
Ingredients:
½ oz. Stoli Vanilla (optional to give it kick)
1 oz. pumpkin spice liqueur (such as Hiram Walker)
½ oz. Kahlua
½ oz. half-and-half
Crushed graham crackers
Cinnamon stick (garnish)
1. Add all liquids in a shaker filled with ice.
2. Shake and strain into large martini glass rimmed with crushed graham crackers.
3. Garnish with a cinnamon stick.
Operations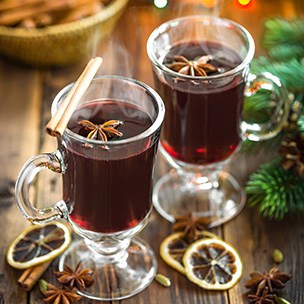 Gløgg (traditional drink from Scandinavia)
Ingredients:
1 bottle red wine
1 cup water
Coarsely crushed spices in cheesecloth: 10 cloves, 2 cinnamon sticks, 8 cardamom pods, ½ tsp nutmeg
½ cup sugar
Optional: 1 ½ cups alcohol of your choice (Aquavit, rum, vodka, brandy, cognac)
1 cup raisins (presoak the raisins in the optional alcohol for added punch)
1 cup blanched almonds
1. Slowly warm the red wine and water in a saucepan, add the coarsely crushed spices, let them sit overnight (or as long as you can), then remove.
2. In a large saucepan, warm the spiced red wine without boiling, add the sugar and stir until fully dissolved, then add alcohol if desired.
3. Add the raisins and blanched almonds.
4. Serve warm in heat-resistant glass with a spoon.
Client Services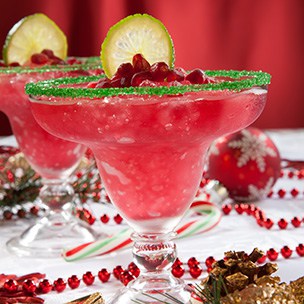 Pomegranate Margarita
Ingredients:
Lime wedge, plus more for garnish
Salt
Ice
4 ounces white tequila
2 ounces triple sec
1/2 cup pomegranate juice
1 lime, juiced (optional)
Club soda
1. Pour salt onto a plate or shallow dish.
2. Rub the rim of a glass with a lime wedge and dip glasses upside down to salt the rim.
3. Fill glasses with ice.
4. In a cocktail shaker with ice place the tequila, triple sec, pomegranate juice and lime juice.
5. Pour into the salt-rimmed glasses and top off with club soda.
6. Garnish with a lime wedge, if desired.
Marketing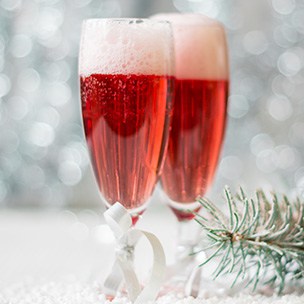 Poinsettia Cocktail
Ingredients:
3 parts champagne
1 part cranberry juice
1 raspberry
1. Combine 6 oz champagne with 2 oz cranberry juice
2. Pour into a chilled champagne glass.
3. For sparkle, garnish with a raspberry rolled in sugar.
Sales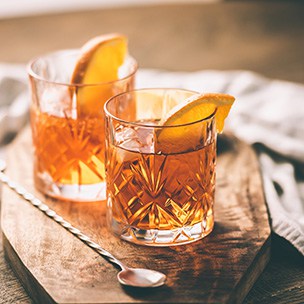 Jason W.'s Old Fashioned
Ingredients:
2-3 oz. Woodford Reserve Kentucky Straight Bourbon
Regans' orange bitters
1 to 1 ratio honey and water
One large ice cube
Orange peel
Cranberries to garnish
1. Mix a 1 to 1 ratio of honey and water in a pan over low heat until thoroughly integrated. (This serves as the sweetener which I like to keep in a little squeeze bottle in the fridge for various cocktails.)
2. In a shaker, pour 2-3 oz. Woodford Reserve Kentucky Straight Bourbon, a few dashes of Regans' Orange Bitters and about ½ oz. of the honey water. Shake well with ice.
3. Drop one large ice cube in a rocks glass.
4. Pour the shaker, carefully straining out the ice cubes into your glass.
5. Cut a piece of orange peel and warm it over a flame to help bring out the oils.
6. If you're careful you can "spray" orange zest from the peel by squeezing it at the flame over your glass. This gives the drink a cool fire effect and creates a nice orange aroma.
7. Rub the peel around the rim, then drop it into the glass and enjoy!
SEO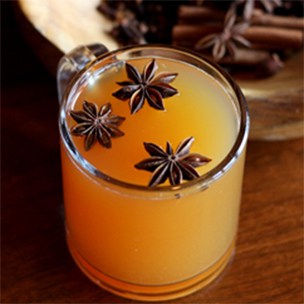 Hot Toddy
Ingredients:
1 oz. whiskey
1 tbsp honey
¼ lemon
1 cup hot water
1 tea bag
1 cinnamon stick
1. Coat the bottom of a mug with honey.
2. Add the liquor and the juice of the lemon quarter.
3. On the side, heat water in a tea kettle and add the tea bag to make hot tea.
4. Pour the steaming tea into the glass and stir with cinnamon stick.
Web Development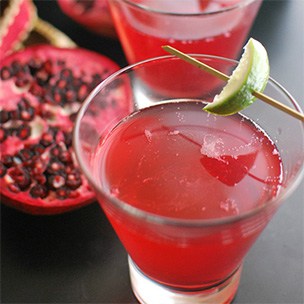 Christmas Tree Cocktail
Ingredients:
3 oz. pomegranate juice (or cranberry)
2 oz. gin
1 oz. simple syrup
Lime juice (juice from 1-2 wedges will do)
A few fresh mint leaves
Pomegranate seeds & lime wheel for garnish
1. Muddle mint leaves with simple syrup at the bottom of your glass.
2. Add ice, then add gin, juice, and lime juice.
3. Stir, and garnish as pictured above.
Editorial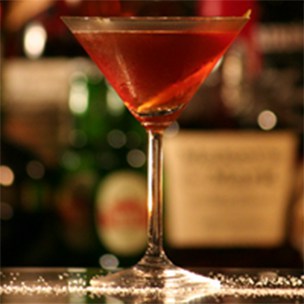 Len Takes Manhattan
Ingredients:
1 ½ oz. bourbon or rye
1 ½ oz. sweet vermouth
½ oz. bitters
1. Mix and pour into a chilled martini glass.
2. Enjoy!
IT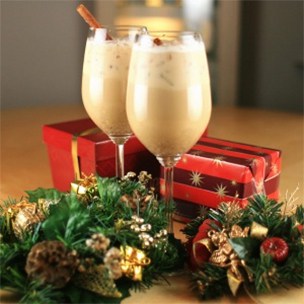 Irish Eggnog
Ingredients:
1 egg
1 oz. Irish cream liqueur
¼ oz. Irish whiskey
2 cups whole milk
Cinnamon sticks
1. Whisk egg, 1 oz. Irish cream liqueur and ¼ oz. Irish whiskey in a bowl until smooth.
2. Bring 2 cups whole milk to a boil in a saucepan (do not use a slow cooker – it will overcook the eggs).
3. Pour over the egg mixture, stirring to mix well.
4. Pour into mugs.
5. Sprinkle with nutmeg and garnish with cinnamon sticks.
Happy Holidays from all of us at CEATUS MEDIA GROUP!
Save
Save
Save
Save
Save
Save
Save
Save
Save
Save
Save
Save
Save
Save
Save
Save
Save
Save