Dr Evans Highlighted as Expert in Ophthalmology Management Viewpoint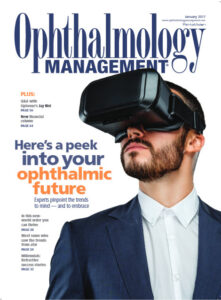 Ceatus CEO, Dr David Evans, recently published an article in the January 2017 Edition of Ophthalmology Management entitled "Rethinking the YP in Marketing Plans."
The article provides detailed information about consumer behavior related to making buying decisions for elective eye surgery. He identifies how marketing budgets should be allocated for the four specific pillars of Internet marketing, which include the practice website, SEO, social media and reviews.
Dr Evans also addresses the specific components and types of activities that should be included in each these pillars in order for Internet marketing strategies to be effective. Detailed consumer data from Pew Research, Care Credit and Facebook are included in the article.
Notably, Dr Larry Patterson, in his editorial "Viewpoint" entitled "Me, Ray and a $ 30,000 Decision" suggests the readers learn more from Dr Evans' article and expertise.
To read Dr Evans' full article, click here.