Dr. Evans Invited to Speak at ESCRS Conference in Copenhagen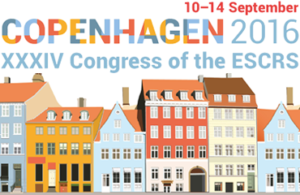 For the sixth year in a row, Ceatus CEO, Dr. David Evans has been asked to present to the Practice Management Programme of the European Society of Cataract and Refractive Surgery (ESCRS). The program is a full day event taking place on Sep 12th at the Bella Convention Centre in Copenhagen Denmark.
Dr. Evans has been invited to outline for the audience the status of reviews, how they impact the revenue of premium eye care practices in the United States and how the trend is expected to impact European eye surgeons in the very near future. He will explain that reviews are now  a major part of the decision making process for consumers seeking eye care services in the US, particularly for those interested in elective eye surgery such as LASIK, laser cataract surgery and advanced presbyopia correction. Dr. Evans will also provide data showing that in many countries in Europe, and throughout the rest of the world, the consumer use of the most popular review sites, including Yelp and Google, is beginning to explode.
It is important to note that a few practices in Europe are taking advantage of this trend, which gives these practices a significant advantage from a marketing and consumer outreach standpoint. However, as the use of reviews becomes even more prevalent, other eye surgeons need to follow suit quickly to ensure leadership in their respective markets.
Dr. Evans will describe during his one hour presentation how to best implement a Reviews Strategy to increase practice revenue. Strategies for leveraging positive reviews to promote the practice, for generating a high volume of positive reviews and for monitoring review sites will be outlined in detail, along with case reports describing the successful implementation of a reviews program. He will also be available at booth H116 (Trusetal Verbandstoffwerk GmbH) throughout the conference (Sep 10 to 13) to answer questions or to provide a free evaluation of the practice web presence or reviews strategy.
The learn more about the ESCRS practice management program and see the schedule for Dr. Evans' presentation, please click on the link below.
http://www.escrs.org/Copenhagen2016/programme/ESCRS-Practice-Management-and-Development-Programme.asp