Google Changes its' Snippet Guidelines
Many businesses, including elective healthcare practices, have been using schema code to manipulate how their websites appear in the Google search results. The goal has been to have "stars" appear in the search engine ranking results, as shown in the picture below.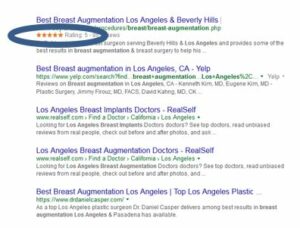 Unfortunately, in many cases, no reviews actually appear on these websites and the stars are misleading for the consumers. In an attempt to clear up the confusion caused by improper use of the schema code, Google announced on August 29th that is changing its guidelines related to showing stars in the search results. The biggest change is that now schema code can no longer be used to promote reviews that are not produced directly on or through the website where the stars appear.
Reviews from third-party sites or syndicated sites can no longer be used for schema mark- up on individual practice websites. Google also made a number of other changes on how schema can be used for reviews.
To learn more about how to properly promote reviews on your practice website to increase revenue, please contact Ceatus.
For further information about the change in Google's Guideline, you can read the full article here: http://searchengineland.com/google-updates-local-reviews-schema-guidelines-257745