January 2018 Ceatus Chronicles
Case Study
Instant Optimization
Give Them What They Want!
Background: As the attention span of Internet users continues to shrink, and as the already impatient Millennials become a larger portion of the elective health care market, it is imperative that practice websites make it easy to find procedure information.
If visitors have to look for or navigate to the information on your site to find it, they bounce back to Google and visit a different site that makes the information easier to find. This poor engagement by users can seriously damage website rankings, as well as conversion.
Search engine optimization techniques should be structured so that each procedure appears in the search engine results for applicable searches. This way, the prospective patient can find the information immediately when he or she enters the site from the search engines.
If someone types in a search phrase for procedure information in a given geographic market (e.g., "breast augmentation sacramento," "dental veneers charlotte" or "cataract surgery ft worth"), it is imperative that he or she lands on your website page devoted to that procedure. If not, bounce rates increase and conversion falls.
Most SEO companies do not understand this issue. They take a simplistic approach and optimize the site without targeting the website appropriately for each specific procedure. Rankings in general are typically not very good with these amateur SEO strategies.
More importantly, the homepage ends up ranking for the procedure-related search terms, and this spells D-I-S-A-S-T-E-R. When this happens, website visitors (i.e., potential patients) have to navigate to another page to find the information they originally searched for. The result is Poor Engagement that Hurts Rankings.
And as if this weren't bad enough, rankings for the homepage suffer as well. The homepage is just too generic and does not include enough specific procedure information to be considered a top resource by Google. When the homepage ranks at the top of the search results for a wide range of procedure terms, it sends Google the wrong message.
To make matters even worse, once Google has made up its mind about which page should rank for which procedure, it is very difficult to change, unless the SEO team is highly skilled. The site has to be torn apart and restructured to "retrain" Google on how to value the various pages of the site.
Problem: This month's case study involves an eye care practice in Ft. Worth, TX that came to Ceatus with a big problem. Thanks to amateurish SEO techniques, the homepage, www.lasikdr.com, ranked for eye care procedure search terms. Although the site had a specific page about cataract surgery, this was not the page that ranked for the term "cataract surgery ft worth." Instead, the homepage did.
The practice marketing manager became frustrated that the site could never move above the bottom of the first page of Google. She could not understand why the rankings stalled. The practice's SEO company at the time tried to convince her that nothing could be done to improve the site's rankings, traffic and patient flow. Fortunately, she didn't believe them.
Solution: Enter the SEO expertise of Ceatus Media Group. Our team educated the practice as to why their rankings were stuck at the bottom of the first page, and explained that the SEO had to be completely redone to "teach" Google which page should rank for each procedure search term. In this particular case, the practice website had to be restructured so that all of the ranking signals on and off the site were pointed to the correct pages.
Results: A month after their new Ceatus-designed SEO strategy was launched, the site's Google rankings changed so that the correct page (https://www.lasikdr.com/cataracts-fort-worth/) ranked for the search term "cataract surgery ft worth." Over the next 4 to 6 weeks, the site's rankings climbed to the top 3 on Google, and they are still climbing. And, because the page is dedicated and totally focused on cataract surgery, conversion has increased, the bounce rate has fallen and, most importantly, patient flow from the website has increased. Now patients interested in cataract surgery in Fort Worth land on the correct page. They no longer have to navigate to other pages on the site to learn about cataract surgery.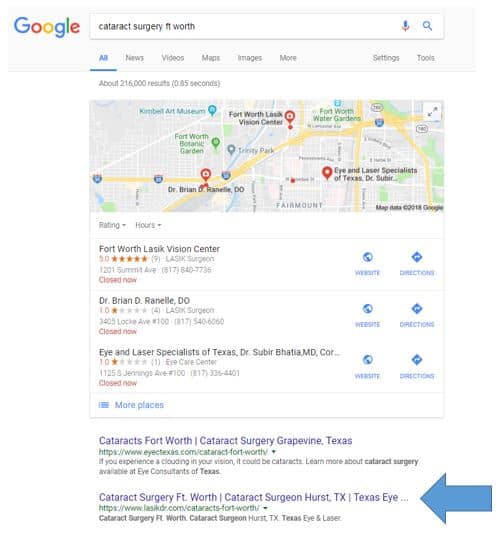 The site moved up from No. 9 to No. 2 for the search term "cataract surgery ft worth," because now the correct cataract surgery page is the target of the SEO efforts.
Questions about your SEO Strategy? Call us today at 858-454-5505 or email us at contactceatus@ceatus.com.
Maximize Your Internet Strategy
Come by the CEATUS booth for a FREE website evaluation!
Cancun, Mexico
February 2-6, 2018
Is your Digital Marketing Strategy out of FOCUS? Come visit CEATUS at this year's Caribbean Eye conference and see how we can help you grow your practice.
Also, join CEATUS CEO David Evans, PhD, for his presentation:
"Blending Traditional and New Marketing"
Saturday, February 3
8:07am- 8:14am
Don't miss out!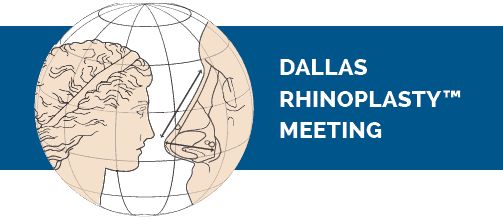 Dallas, Texas
March 2-3, 2018
Booth 47
Stop by booth 47 and find out how to expand your Digital footprint!
CEATUS CEO David Evans, PhD, will also be speaking at the social media panel presentation:
"What's New, What's True, What's Ethical"
Wednesday, February 28
6:30pm- 7:30pm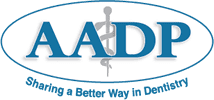 White Sulphur Springs, WV
March 7-10, 2018
Give your Internet strategy a smile makeover. Stop by our table to talk to a CEATUS Internet Marketing Expert and get a FREE Digital Strategy Review!
Not attending any of these shows? Give us a call (858-454-5505) for a FREE Digital Strategy Evaluation!
---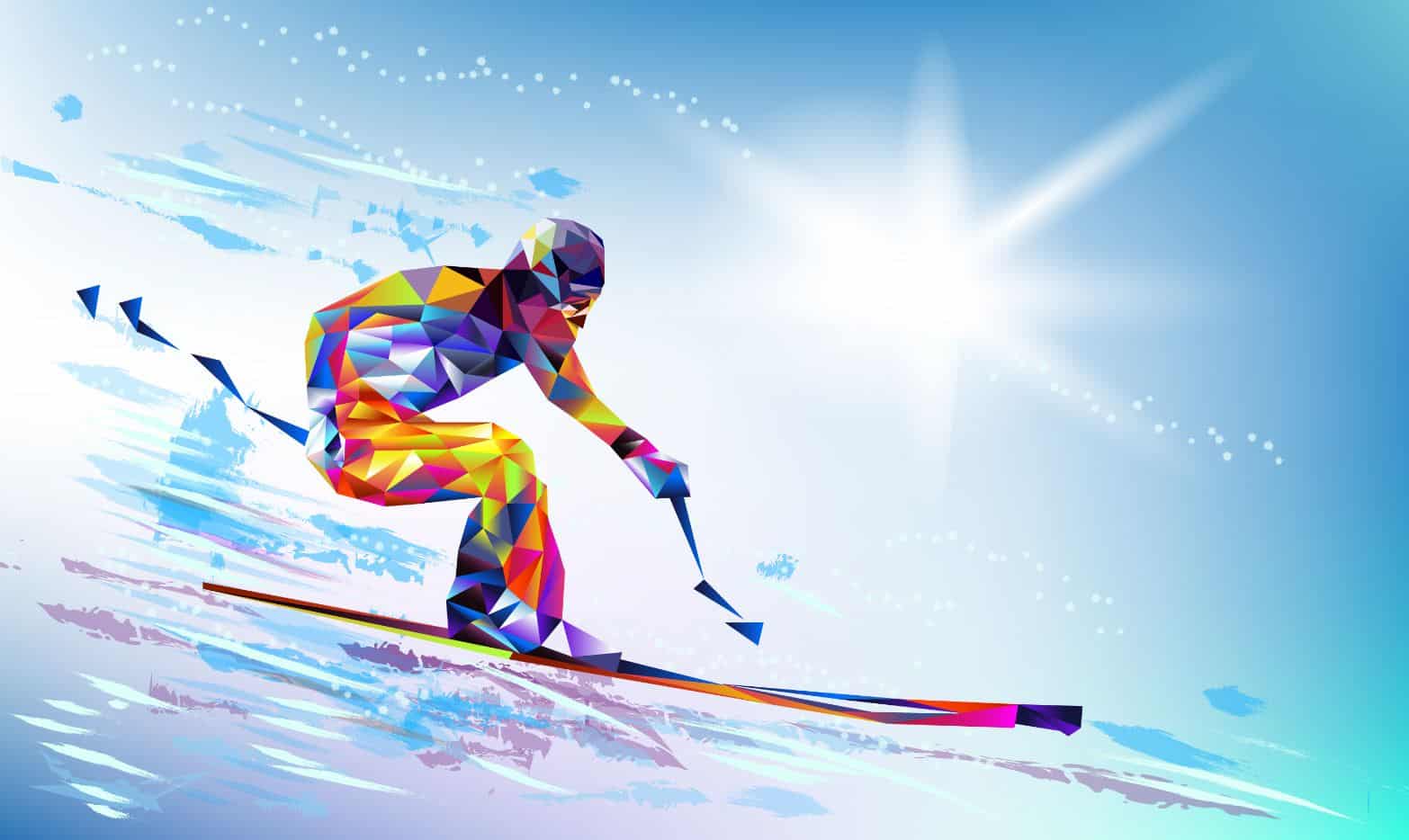 Snow Kidding!
Winter Olympic Moments that Took Our Breath Away!

The Miracle on Ice
The 1980 U.S. Men's Olympic Hockey Team was a hodgepodge of amateur and collegiate players, and most people didn't believe they were capable of winning much of anything. But thanks to their determination, grit and commitment they ended up beating the Soviet powerhouse team in a memorable 4-3 semifinal and then went on to beat Finland to win gold! Miracles do happen!