June 2017 Ceatus Chronicles
Melding Traditional and New Age Marketing

Out with the old-school marketing and in with the new age (Digital) marketing? Not so fast!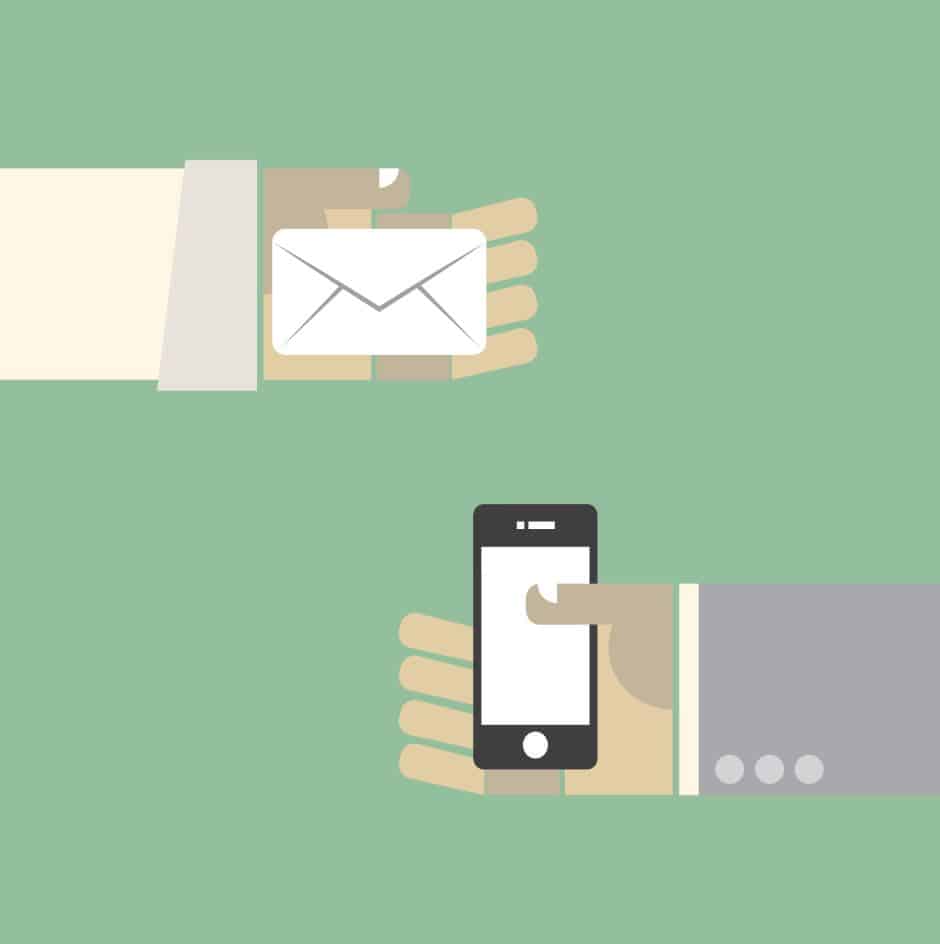 Ceatus leadership is often asked to speak at the major national and international elective health care conferences across eye care, plastic surgery, dentistry and other elective healthcare market segments. (See our schedule of upcoming speaking engagements in this newsletter.) One recurring topic of interest is how to meld traditional and new age (i.e. Digital) strategies to achieve the highest marketing ROI.
More Importantly – The Similarities
Many people are under the false impression that traditional and Digital strategies are quite different, with very different rules. This is NOT TRUE. Marketing 101 is still alive and well!
A few years back Digital platforms were, well, new, and so Digital marketing was often left to the person who "knew the platform," with little regard to whether they knew and understood the healthcare industry, the prospective patient demographic, the procedures offered or even (gulp) general marketing principles. Examples of less-than-stellar ROI abound in cases where the practice website was developed by a family friend or someone who took a few graphic arts courses because he/she "knew" design, the practice Facebook was left to the young receptionist because he/she "knew" Facebook or, the ultimate disaster, the practice SEO (the lifeblood of online visibility) was left to a local "so called SEO person" because he/she can do an SEO plugin in WordPress and said he/she "knew" Google. To put these marketing disasters in perspective, this would be like letting the kid who works for your local printer develop the marketing messaging and design for all your branding and brochures because he/she "knows" printing.
Bottom line – regardless of the platform, you are still marketing your practice and conveying to prospective patients, your professional image. As in the past, this requires a skilled professional with an in-depth knowledge of healthcare, what the rules are and how consumers search for procedure information and select doctors.
So What's Different?
In today's world, it is critical to remember that regardless of how they hear about you, prospective (and often current) patients WILL go online to look you up and to research the procedure. This means that the role each form of marketing plays has changed dramatically, as has its ultimate mission. In the past, the mission of traditional marketing was to have patients contact the practice directly. Print, broadcast and word-of-mouth (WOM) generated direct phone calls and patient contact with the practice. This is no longer the case. Now, these traditional forms of marketing are driving patients online before making their buying decisions. Voila, traditional and Digital marketing have merged.
Capitalizing on this New Trend
In order to best take advantage of the merger of these two forms of advertising, your traditional and Digital marketing must be designed to work together. When traditional promotions target a specific service or product, your online efforts – including website, SEO, Blogging, Social Media, and Reviews – must present the same focus. Many practices promote their procedures in traditional media but then fail to capitalize on these efforts in the Digital sphere.
For example, it is not uncommon for a surgeon or dentist to receive a WOM referral for a procedure (e.g., "Doctor X did such a great job on my procedure. I recommend her highly."). But then, when the friend who received this referral goes online…disaster. The doctor doesn't rank for the procedure in question, the website doesn't highlight the procedure and there is no timely blogging information about this target procedure. As a result of this disconnect, the practice has not only failed to take advantage of the potential synergy of its traditional and Digital marketing, it has also missed out on vastly improved ROI.
To build this synergy, good communication is needed between a practice's Digital marketing agency and the practice, and the Digital marketing agency has to be highly knowledgeable in the specific specialty of the practice. Moreover, the agency must have the skills to obtain high rankings for the practice website for the highly competitive procedure-related terms favored by the practice.
Reviews and Social Media
The connection between traditional marketing and the Digital arena is intensified with reviews and social media. Because in today's world, these are the new forms of word-of-mouth advertising.
First, the practice has to have a steady flow of positive reviews about the procedures that are most important to the practice. A system needs to be in place to easily and automatically solicit and create positive reviews, and to automatically publish these positive patient comments on the website.
Also, the social media has be engaging. Too many practices bludgeon their followers on Facebook and Instagram with a constant flow of promotions about their services or some new technology. To obtain the best ROI, social media should adhere to the 80-20 rule. Eighty percent of the posts need to be designed strictly for engagement, i.e. include messaging that is interesting, entertaining, motivating or about the personality of the practice. Only 20 percent should be promotional. Most practices do the opposite and this kills ROI, hurting not only the Digital social media strategy but also the goodwill created with traditional types of promotion.
The connection between traditional marketing and the Digital arena is intensified with reviews and social media. Because in today's world, these are the new forms of word-of-mouth advertising.
If you would like to learn more about how to use your Digital strategy to boost the great WOM referrals you receive in the community, or how to enhance other traditional media, please contact us.
Internet Tip of the Month
Keeping Things Fresh
How stale content can spoil your rankings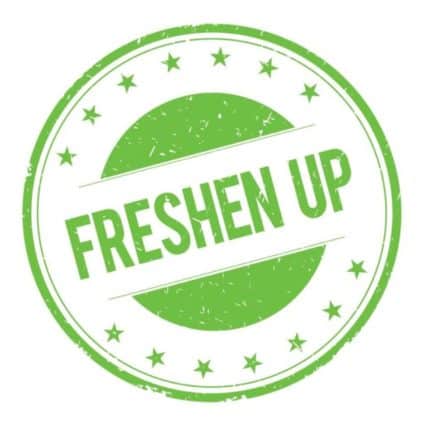 Google's algorithm favors sites that are frequently updated with new and refreshed information. To accommodate this, you should add blog posts to your site that are timely, seasonal and/or unique. Too many practices add blog posts which do no more than describe specific procedures. This is the kiss of death for Google's algorithm.
Google "sees" this procedure-related blog content as no different than what is already on the website. Not only is the content not "fresh," it is also not unique – it is simply a regurgitation of already published text. Further, if you are paying a Digital company to regurgitate the same procedure content that is already on your site, you are paying too much.
Ask the experts
Q: I use a reviews program, but it doesn't help me get reviews on major (third-party) sites like Yelp, RateMDs, Vitals, etc. And, it only gives patients a few sites to choose from. Is this a problem?
A: Yes. This limited strategy is a big problem for your review strategy. Reviews are now one of the most important parts of prospective patients' decision-making process. Studies show that consumers rely on a range of third-party review sites when making a decision, not just a few. Since most of the reviews platforms only target 3 or, at most, 4 review sites, using these types of platforms places you at a significant disadvantage to your competition. If you limit your strategy to only a few sites, and don't include Yelp and a range of other sites, you are putting your practice revenue growth at risk.
If you have a question about the more than 75 review sites that are important for your practice, or how to target the full range of review sites, let us know. The Ceatus Review Manager is unequaled in the marketplace.
Events
Maximize Your Internet Strategy
Come by the Ceatus booth for a FREE website evaluation!

San Diego, CA
August 3-5, 2017
Expand your online footprint with Ceatus concierge Digital Strategies! Our Digital Marketing Experts will be standing by to answer any and all of your Digital marketing questions.

Lisbon, Portugal
October 7-10, 2017
Booth P174
Ceatus Media Group will be at the upcoming ESCRS conference in Lisbon. Join Ceatus CEO David Evans, PhD and Ceatus VP Marketing Tamara Evans for these must-see digital marketing and social media presentations. Hope to see you there!
"Effective Digital Marketing and Social Media Strategies that Increase Patient Volume"
Tamara Evans
Practice Management & Development Programme
Sunday, October 8
5:00pm – 6:00pm
Room 4.4
"Internet Marketing in the Digital Age: How to Achieve Practice Success"
David Evans, PhD
Practice Management & Development Programme
Monday, October 9
5:00pm – 6:00pm
Room 4.6

Atlanta, Georgia
October 17-18, 2017
Give your Internet strategy a smile makeover. Visit our booth to learn how to increase your conversion and start bringing new patients to your door!
Not attending any of these shows? Give us a call (858-454-5505) for a FREE Digital Strategy Evaluation!
---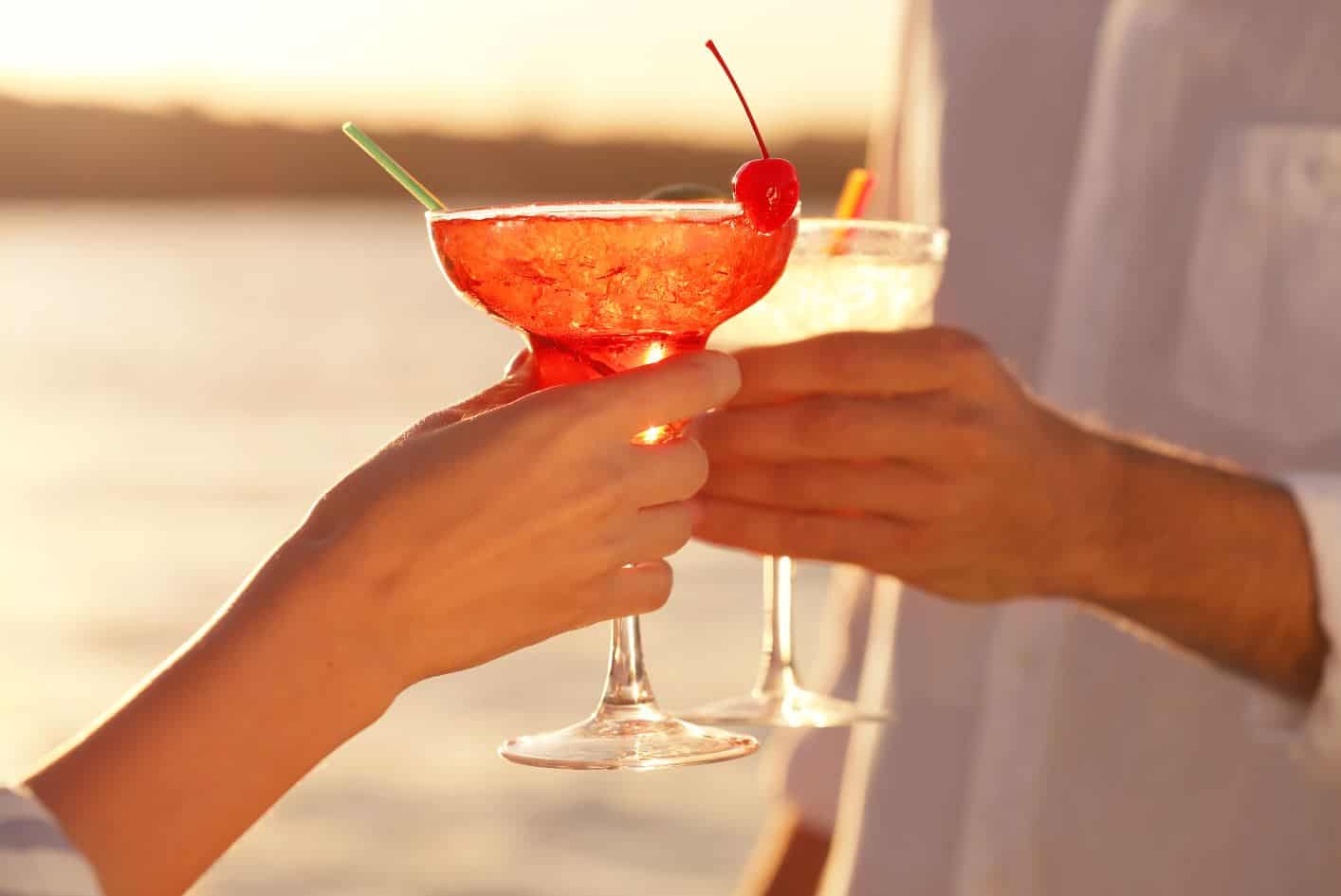 Endless Summer Cocktails
Seven classic summer cocktails — with a twist!
Summer is here! You can smell the meat on the grill, taste the salt on the rim of a margarita and hear the laughter of good company filling those summer nights. Here are some cocktails to please the senses and make sure you have an endless summer.
The Ultimate Ketel One Lemonade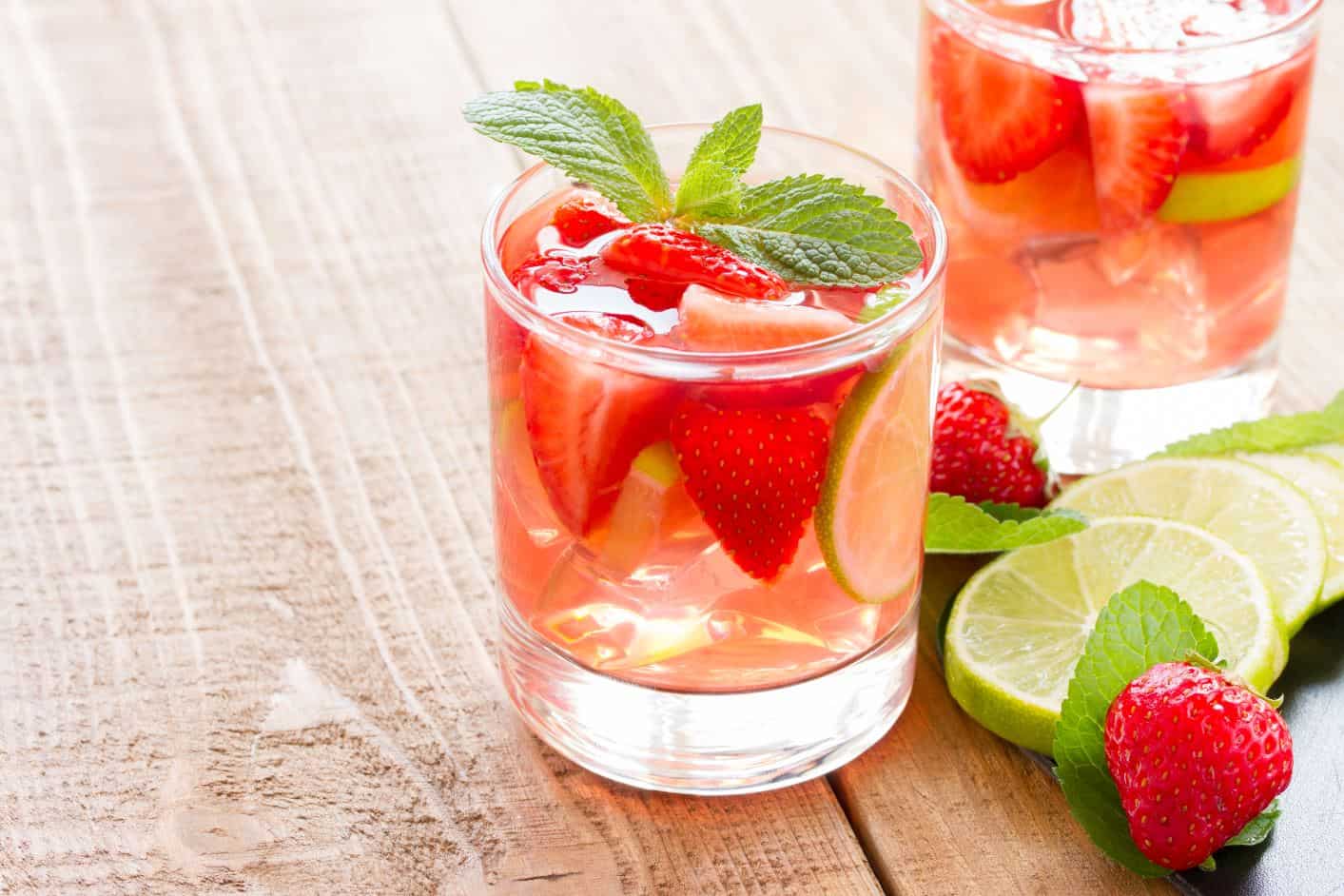 Ingredients
1 1/2 ounces Ketel One Citroen Vodka (or other top shelf vodka)
2 1/2 ounces fresh lemonade
1 lemon wheel
Shake vodka and lemonade with ice in a cocktail shaker.
Strain into ice-filled highball glass.
Garnish with a lemon wheel.
Tip: For strawberry lemonade lovers, try adding some chopped strawberries.
---
Coconut Gin and Tonic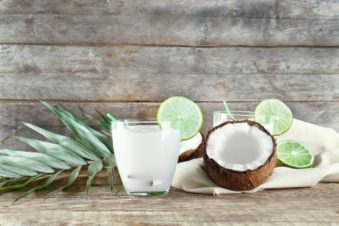 Ingredients
2 oz. gin
2 ounces coconut water
2 ounces tonic water
juice of 1/2 lime (1-2 Tbsp)
optional: fresh mint or basil
Add ice to a serving glass and top with lime juice, gin, tonic water, and coconut water.
Stir and garnish with fresh mint or basil (optional). Multiply the amount of ingredients per person, or simply repeat recipe for more drinks.
---
Watermelon Pimm's Cup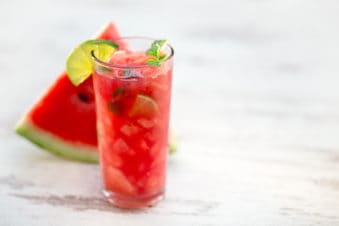 Ingredients
medium-size watermelon
1 cup sugar
2 ounces Pimm's No. 1
1 ounce lemon juice
2 ounces ginger ale
berries and mint sprig for garnish
Purée and strain enough watermelon to equal one cup of juice. In a small pan, heat the sugar and watermelon juice and boil until sugar dissolves. Remove from heat and let cool.
In a cocktail shaker with ice, add Pimm's, lemon juice and 1 ounce syrup-fruit mixture and shake.
Strain into an ice-filled Collins glass.
Top with ginger ale and garnish with berries, mint and cucumber slices to your taste.
---
Grapefruit Margarita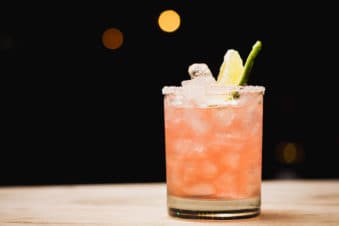 Ingredients
wedge of lime
2 teaspoons coarse margarita salt
14 ounces ruby red grapefruit juice, with pulp (about 3 medium grapefruits)
1 ounce lime juice
5 ounces reposado tequila
2 ounces triple sec
4 slices grapefruit or twists
Run a lime wedge halfway around the rims of four margarita glasses and dip into salt. Set aside.
Combine 7 ounces grapefruit juice, one-half ounce lime juice, 2 1/2 ounces tequila and 1 ounce triple sec in a cocktail shaker.
Shake over ice until chilled. Strain into two ice-filled, salt-rimmed margarita glasses.
Garnish with a twist or slice of grapefruit. Repeat to make two more cocktails.
---
Cucumber, Basil & Lime Gimlet
Ingredients
2 fresh basil leaves
2 (.25-inch) slices cucumber
1.5 ounces Moon Mountain vodka
1 ounce lemonade
.25 ounce lime juice
lime wedge or cucumber wheel
In a shaker, muddle the basil and cucumber.
Add the remaining ingredients and fill with ice.
Shake well and strain into a rocks glass filled with fresh ice.
Garnish with a lime wedge or cucumber wheel.
---
Whiskey Smash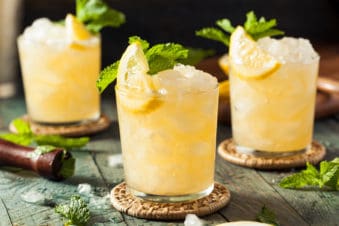 Ingredients
2-4 lemon pieces
5-10 mint leaves
3 dashes bitters
1/4 to 3/4 ounces simple syrup to taste
2-3 oz. rye, bourbon or whiskey
Muddle the lemon pieces, mint leaves, bitters and simple syrup in the bottom of a shaker glass.
Add the bourbon and shake well with ice.
Strain into a rocks glass with ice.
Garnish with a mint sprig and a lemon wedge.
---
Tequila Sunrise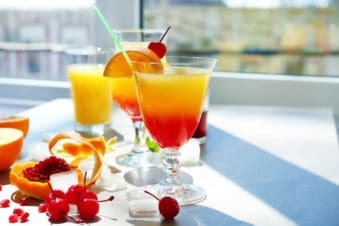 Ingredients
4 ounces orange juice
2 ounces tequila
1/2 ounces grenadine
Orange slice for garnish
Maraschino cherry for garnish
Pour the tequila and the orange juice into a highball glass with ice cubes.
Stir.
Slowly pour the grenadine around the inside edge of the glass; it will sink and slowly rise to mix with the other ingredients naturally.
Garnish with the orange slice and cherry.
Cheers!!!!
Save
Save
Save
Save
Save
Save
Save
Save
Save
Save
Save
Save
Save
Save
Save
Save
Save