May 2017 Ceatus Chronicles
Organic traffic is the most important factor. This metric should be compared to both previous periods as well as to the same period from the previous year (due to seasonality) to know if there is growth. In addition, local traffic (website visitors) is critically important. A geographic analysis should be conducted to assess where traffic to your site is coming from.
Google My Business
Google My Business should be checked visually to ensure that the page is indexing properly for the practice/doctor name and that Google hasn't unintentionally overwritten data. It is not at all unusual for Google to de-index the page, confuse the practice page with the doctor page, revert to your previous address or phone number, mark the practice as permanently closed, or post the wrong pictures. All of these factors should be monitored by eye by someone who knows what they are doing and who is familiar with the account; and when problems are found, Google should be contacted immediately.
Key Words
Of course, ranking is crucial because this drives the organic traffic. The number of key words tracked and the overall measure of their ranking is important to monitor.
Backlinks
Backlinks continue to be the cornerstone of Google's ranking algorithm and one of the factors that can solicit a quick and severe penalty from Google. An expert with a keen eye should monitor your backlinks on a regular basis, looking for problem links and making sure there are no unnatural changes in the number of links. Links should be growing, but not too fast. A dramatic jump in links can trigger a significant loss in rankings and traffic.
Duplicate Content
Content is critical. It isn't enough to be sure that you have avoided placing duplicate content on your site. In addition, your SEO company should run a duplicate content test every month to ensure that others are not copying the content on your site. If your site has content that is duplicated on other sites, your rankings can suffer, even if you're the one that created and posted the content first. Sometimes Google can get confused as to which site originally posted content, so a keen eye is needed to discern what is happening if duplicate content pops up on the radar.
Index Bloat
One of the major foci of Google's Fred update is "Index Bloat." Google and the other search engines are becoming ruthless about this issue due to the sheer size of their respective indexes for all the world's websites. Index Bloat is probably a new topic to most of our readers, so we will take a few paragraphs to explain it.
Each search engine holds a previous copy of your site in its index; when the site is crawled, the search engines compare the pages in the index with the pages that are currently online on the site. Bloat occurs when a search engine is holding in its index too many pages of a particular website that have little or no unique content. The search engine has to take the time and resources to compare all of these pages, even though these pages are of little value to website visitors and are essentially never updated.
Index Bloat can be caused by a variety of actions. For example, placing each new before-and-after image on an individual page of a practice's website can cause Index Bloat. Placing a high number of blog posts with very little or no content on separate pages is another example of Bloat. Bloat can also occur due to a mistake by a search engine, such as when a search engine's crawler malfunctions, or if a search engine holds more pages in its index than exist on the site. And finally, Bloat can occur if a site is hacked and the hacker places multiple additional low-value pages on the site. WordPress sites, due to their open source nature and widespread use, are frequently hacked.
As you can imagine, search engines really despise Index Bloat, whether it's their mistake or not, because it wastes their resources. As a result, they often severely penalize the rankings of sites that suffer from this condition. To avoid contributing to Index Bloat, thereby provoking the ire of the search engines, your SEO company should monitor how many pages of your website are being indexed by the search engines. And again, when Bloat is spotted, a keen eye is needed to determine the cause.
SEO is getting a lot harder. The good companies are proactive in checking and cross-checking a wide range of variables in order to stay ahead of Google and the other search engines.
If you would like to learn more about how the search engines work and the proper steps to ensure high rankings and traffic, please contact us.
Internet Tip of the Month
One Website to Rule Them All?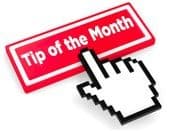 How merging websites could make your SEO… INVISIBLE!

Today many practices are being purchased and merged into hospitals and other larger practices. A big mistake often made in these transactions is to merge the practice website into the acquiring entity's website. This poorly thought-out strategy often destroys many years of your online history with a single stroke. This history is lost forever and can never be recovered. This can be particularly devastating if you have a buy-out clause or performance requirement after the merger, because taking your site off line can cause a dramatic loss in your patient flow. Always be wary of IT experts or online marketing companies that suggest this strategy. It is almost never beneficial to your online presence and patient flow. However, a good SEO company can implement a strategy that is to the benefit of both parties.
Ask the experts
Q: A third party contacted me offering me a domain name that includes my city and a procedure. I was told that redirecting this domain to my practice website will greatly increase traffic to my site. IS THIS TRUE?
A: This SCAM is absolutely FALSE! A domain name that has a procedure plus a city, such as dental implants Chicago (www.dentalimplantschicago.com) or coolsculpting Denver (www.coolsculptingdenver.com), is just like any other domain name. It has essentially NO traffic value unless you build a website on it.
Typical Automated Scam Email

Events: Maximize Your Internet Strategy
Come by the Ceatus booth for a FREE Website Evaluation!

Las Vegas, Nevada
June 7-10, 2017
Join Ceatus CEO David Evans, PhD and Ceatus VP of Marketing Tamara Evans at VCS for three presentations on integrating traditional and online marketing strategies, PPC and reviews.
"Integrating Your Online and Traditional Marketing Strategies for Maximum Exposure and Patient Conversion"
Tamara Evans
Thursday, June 8
3:50pm – 4:15pm
"Accentuate The Positive: Use Your Reputation To Generate More Revenue"
David Evans, PhD
Friday, June 9
9:20am – 9:40am
"How Important is PPC And How Much Do I Need To Spend To Keep Up And Make It Work?"
David Evans, PhD
Friday, June 9
12:15pm – 12:30pm

Lisbon, Portugal
October 7-10, 2017
Ceatus Media Group will be at the upcoming ESCRS conference in Lisbon. Join Ceatus CEO David Evans, PhD and Ceatus VP Marketing Tamara Evans for these must-see digital marketing and social media presentations. Hope to see you there!
"Effective Digital Marketing and Social Media Strategies that Increase Patient Volume"
Tamara Evans
Practice Management & Development Programme
Sunday, October 8
5:00pm – 6:00pm
Room 4.4
"Internet Marketing in the Digital Age: How to Achieve Practice Success"
David Evans, PhD
Practice Management & Development Programme
Monday, October 9
5:00pm – 6:00pm
Room 4.6
Not attending any of these shows? Give us a call (858-454-5505) for a FREE Digital Strategy Evaluation!
---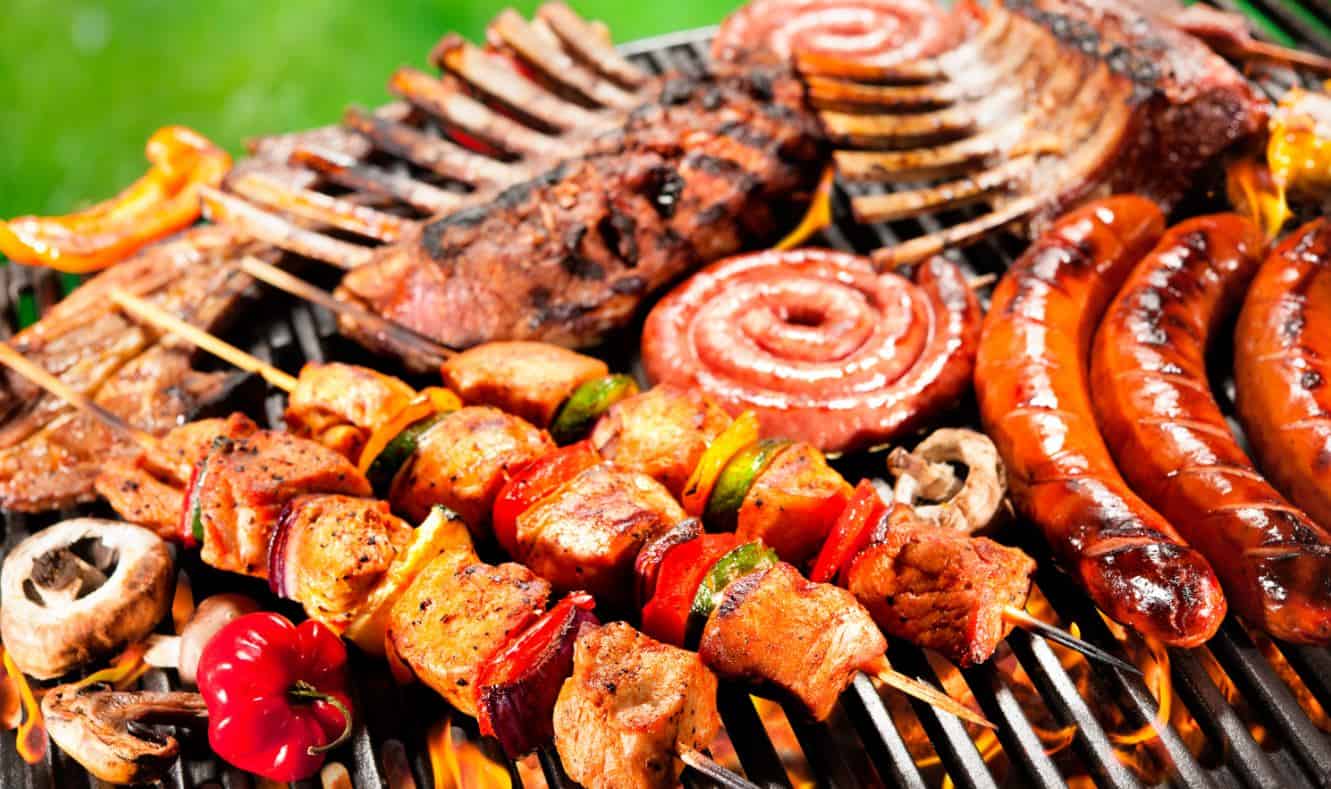 Around the World in 8 Barbecue Ways
Fire up your grill and add some sizzle to your summer with one (or several) of these international BBQ recipes!
1. Mexico – Carne Asada Tacos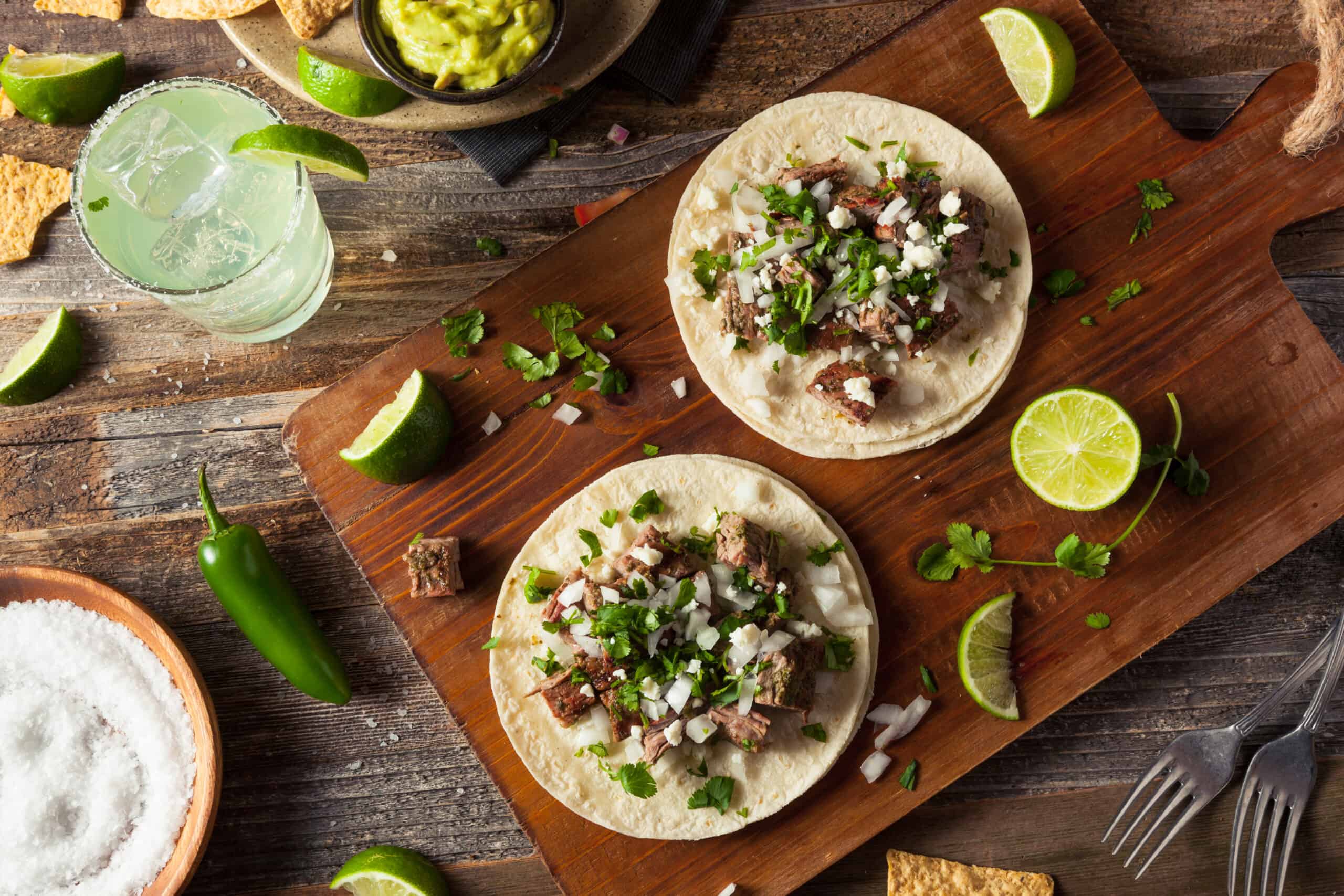 Tenderized and marinated meat with a kick – with fresh lime, onions and cilantro on a corn tortilla…how can you go wrong?! In Latin America and the American Southwest, the term "carne asada" can also be used to describe a social event, the equivalent of a social barbecue, where family and close friends gather. Olé!
Ingredients
1/2 cup white vinegar
2 tablespoons chili powder
2 tablespoons extra-virgin olive oil
2 3/4 teaspoons salt, divided
1 teaspoon garlic powder
2 pounds flank or skirt steak, trimmed and cut into 3 equal portions
1 pound tomatoes, chopped
2-4 fresh jalapeño peppers or serrano chiles, seeded and finely diced
1/2 cup onion, chopped
1/2 cup fresh cilantro, chopped
1 ripe but slightly firm avocado, diced
Juice of 1 lime
16 5- to 6-inch corn or whole-wheat flour tortillas, warmed
1/3 cup crumbled Cotija cheese (see Tip) or other shredded cheese
Get directions here:http://www.eatingwell.com/recipes/carne_asada_tacos.html
---
2. Hawaii – Crockpot Kalua Pig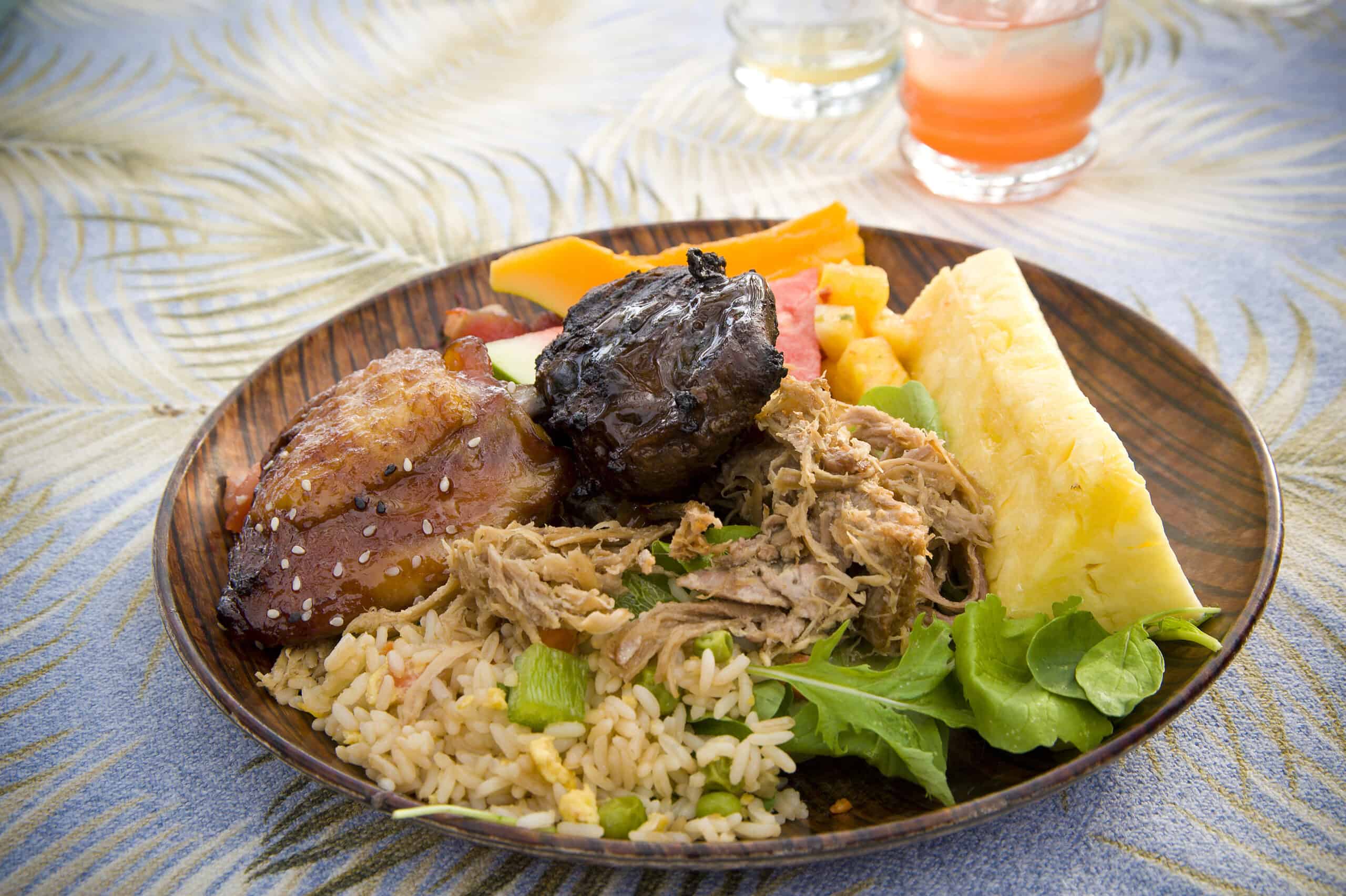 Traditionally served at Hawaiian Luaus, the Kalua pig is cooked in a pit for six to seven hours. No need to dig a pit outside just yet; you can easily recreate this recipe in your slow cooker and bring the islands to you instead. Aloha!
Ingredients
1 (6 pound) pork butt roast
1 1/2 tablespoons Hawaiian sea salt
1 tablespoon liquid smoke flavoring
Get directions here:http://allrecipes.com/recipe/24035/kalua-pig-in-a-slow-cooker/
---
3. Brazil – Churrascaria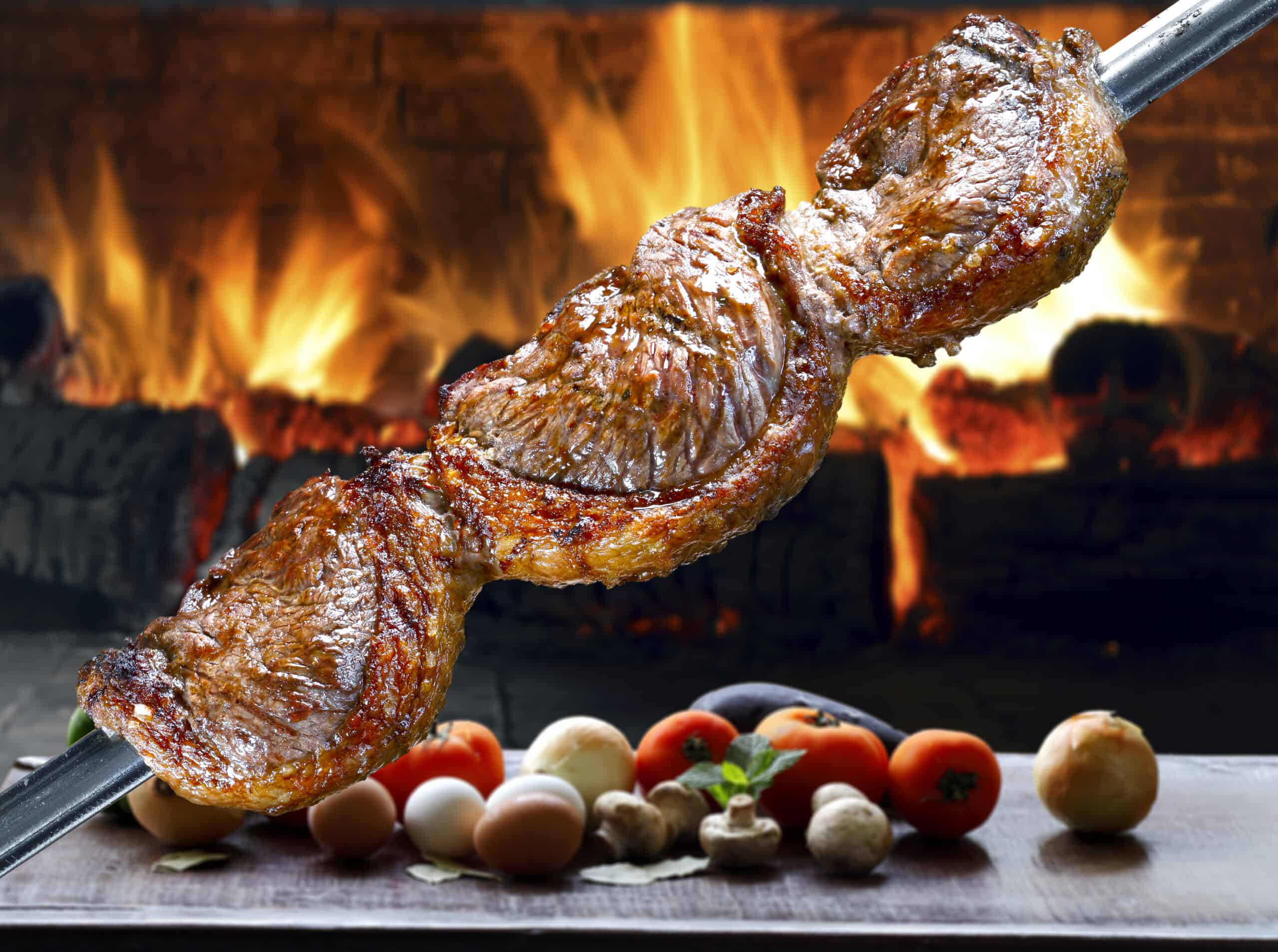 In most traditional Brazilian restaurants meat is brought to the table on meat skewers and sliced off the skewer onto your plate. According to the Food and Agriculture Organization of the United Nations, one in each five pounds of commercialized cattle meat is from Brazil. Vegetarians need not apply!
Ingredients
1 cap of top sirloin (or rump cap) with fat layer intact
Rock salt or sea salt
1 bare rotisserie rod or something suitable to skewer and cook the beef
Get directions here:http://www.tasteofbbq.com/picanha.html
---
4. Korea – Sizzling Beef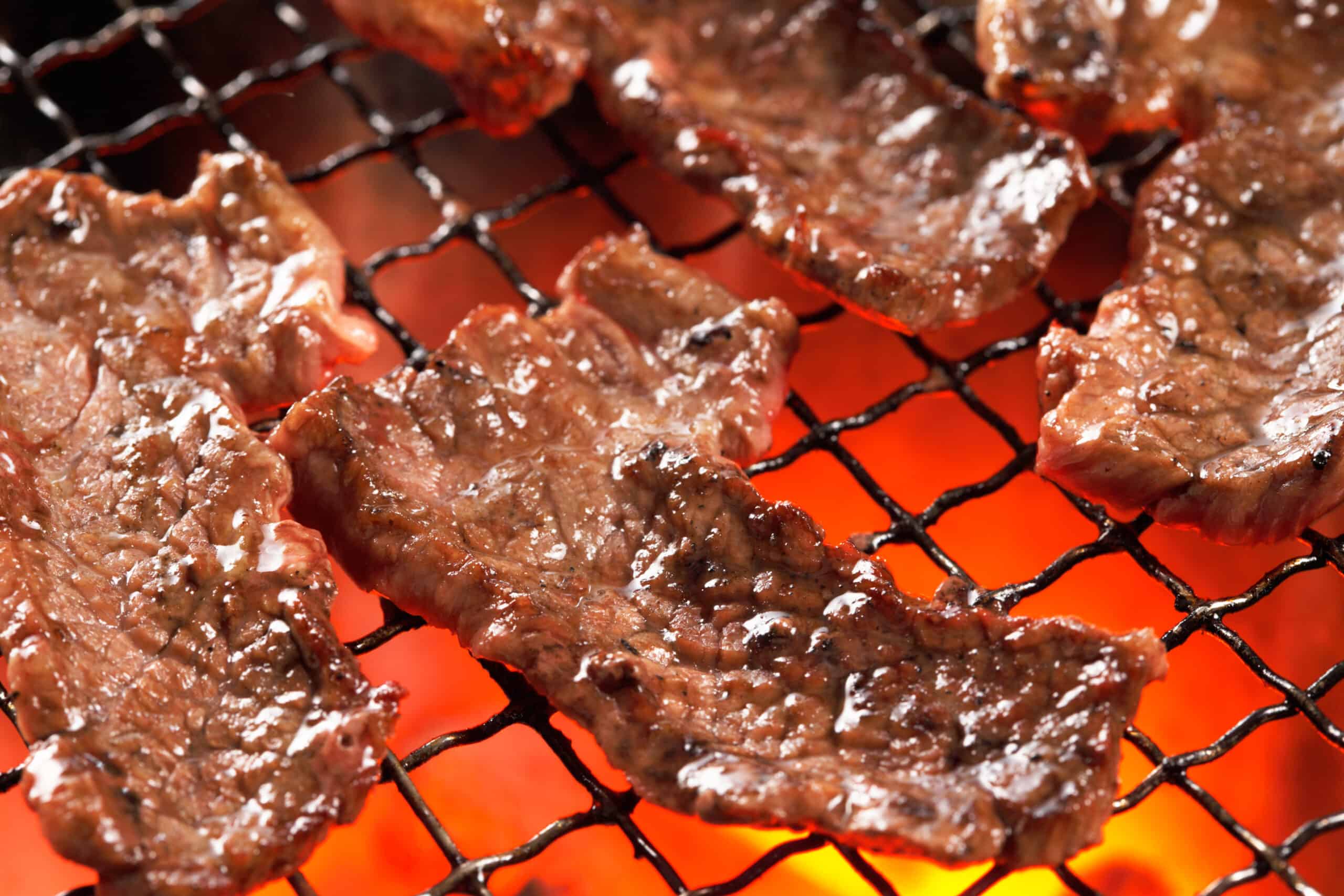 Typically called Bulgogi, which literally means "fire meat" in Korean, this form of sizzling beef is usually cooked on gridirons or a perforated dome griddle. Friends traditionally gather around the griddle and cook various meats and vegetables, which has only made Bulgogi even more popular in the U.S. Let it sizzle!
Ingredients
1/4 cup soy sauce
2 tablespoons sugar
2 tablespoons dry white wine
2 large garlic cloves, very finely chopped
1 tablespoon toasted sesame oil
2 teaspoons crushed red pepper
One 2 1/2-pound beef flank steak, cut across the grain into twenty 1/4-inch-thick slices
16 scallions
Vegetable oil, for rubbing
Salt
Steamed rice, for serving
Get directions here:http://www.foodandwine.com/recipes/korean-sizzling-beef
---
5. India – Tandoori Chicken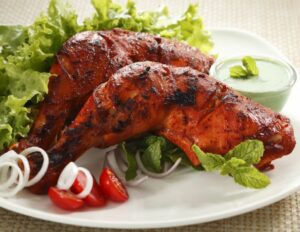 The name Tandoori chicken comes from the type of cylindrical clay oven, a tandoor, in which the dish is traditionally prepared. Not just a popular dish in India, other countries such as Indonesia, Singapore, Malaysia and the Middle East enjoy this dish as well. Spice up your life!
Ingredients
1 (4 to 4 1/2 pound) chicken, cut into 8 pieces, skin removed
2 tablespoons vegetable oil
1/2 cup white onion, chopped
2 tablespoons garlic, chopped
2 tablespoons ginger, chopped
1 teaspoon serrano or jalapeño pepper, finely chopped, stem and seeds removed
1 tablespoon paprika
11/2 teaspoons salt
1 teaspoon cumin, ground
1 teaspoon turmeric
1 teaspoon coriander, ground
1 teaspoon garam masala
1/2 teaspoon cayenne
1/2 cup plain yogurt
1 tablespoon fresh lemon juice
Get directions here:http://www.foodnetwork.com/recipes/g/grilled-tandoori-chicken-3644150
---
6. Greece – Souvlaki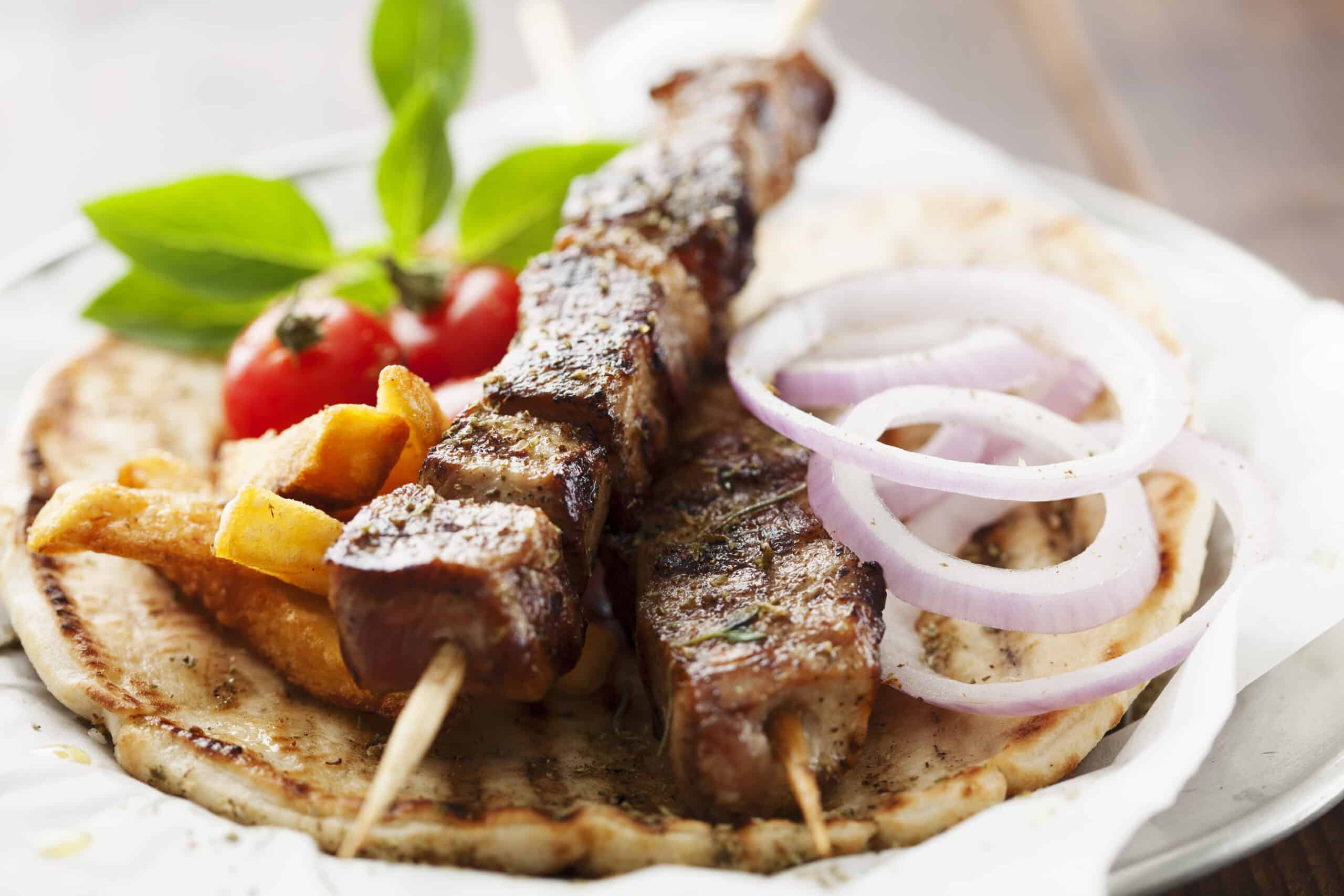 Considered "fast food" in Greece, Souvlaki is served on skewers and is considered the "hamburger" of Greece. Due to its immense popularity, Souvlaki shops can easily be found on most street corners. Opa!
Ingredients
Wooden skewers, 8-inches long
2 pounds boneless pork shoulder, 1 1/2-inch cubes
1/2 cup lemon juice
2 tablespoons red wine vinegar
2 tablespoons fresh oregano, chopped
1 tablespoon fresh thyme, chopped
2 tablespoons garlic, chopped
3 tablespoons olive oil
Salt, to taste
Freshly ground black pepper, to taste
6 pitas
Get directions here:http://www.foodnetwork.com/recipes/cat-cora/souvlaki-small-skewers-of-pork-recipe.html?oc=linkback
---
7. Japan – Yakitori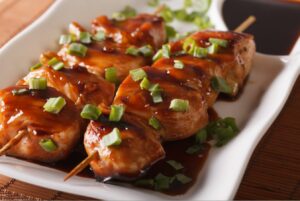 Yakitori, which translated literally means "grilled bird," can be traced back as early as the 1600s. Due to higher chicken supply and changing beliefs on chicken consumption, yakitori has become very popular and is a staple in Japanese cuisine. Arrigato!
Ingredients
1 pound skinless, boneless chicken thighs, cut into 1-inch pieces
4 scallions, white and light green parts only, cut into 1-inch lengths
6 shiitake mushroom caps, quartered
1/2 cup soy sauce
1/4 cup mirin
2 tablespoons kecap manis (sweet Indonesian soy sauce)
2 tablespoons sugar
1 tablespoon minced fresh ginger
1 tablespoon Sriracha chile sauce
1 teaspoon minced garlic
Vegetable oil, for brushing
Get directions here: http://www.foodandwine.com/recipes/soy-glazed-chicken-yakitori
---
8. Jamaica – Jerk Chicken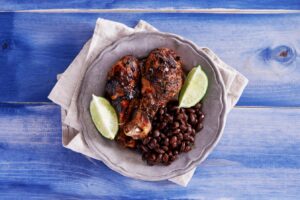 According to food historians, the word "jerk" comes from the Peruvian "charqui," which is the word for dried strips of meat (which also explains the term Jerky in the U.S.). With the main ingredients for the rub being allspice and scotch bonnet peppers, this chicken packs a punch. You'd be a "jerk" not to share!
Ingredients
1 medium onion, coarsely chopped
3 medium scallions, chopped
2 Scotch bonnet chiles, chopped
2 garlic cloves, chopped
1 tablespoon five-spice powder
1 tablespoon allspice berries, coarsely ground
1 tablespoon coarsely ground pepper
1 teaspoon dried thyme, crumbled
1 teaspoon freshly grated nutmeg
1 teaspoon salt
1/2 cup soy sauce
1 tablespoon vegetable oil
Two 3 1/2- to 4-pound chickens, quartered
Get directions here:http://www.foodandwine.com/recipes/jamaican-jerk-chicken
Save
Save
Save
Save
Save
Save
Save
Save
Save
Save
Save
Save
Save
Save
Save
Save
Save
Save
Save
Save
Save
Save
Save