May 2018 Ceatus Chronicles: Not all that Flickers is Gold – "Low-quality" Technology can have catastrophic consequences on your Google rankings
Not attending any of these shows? Give us a call (858-454-5505) for a FREE Digital Strategy Evaluation!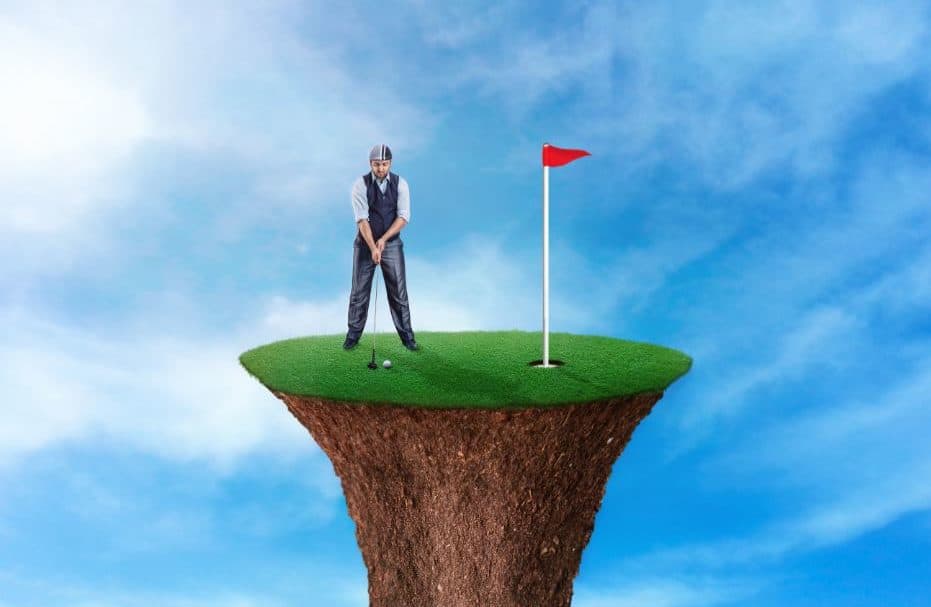 Different strokes
10 unusual, fascinating golf courses in the U.S. and abroad
With its rugged terrain, deep gullies, towering cliffs and secluded access, Cape Kidnappers is just what you'd envision from a New Zealand golf course. Situated between the headland of Hawke Bay and the nearby coastal community of Te Awanga, the course involves navigating through sheep and cattle stations as well as bush land, among other challenges. With its unique layout and breathtaking views around every corner, it's no wonder Golf Digest magazine named Cape Kidnappers the 10th best course outside of the United States in 2007.
Luck of the Irish is needed here at Old Head Golf Links atop the Kinsale peninsula. One of the world's most exhilarating golf sites, Old Head makes you feel as though you are at the edge of the world, which may be why the skill level required is otherworldly! One of the most memorable holes is the 17th — home to the famous "Lighthouse" and its blind approach to the green nestled in a punchbowl on the edge of the cliffs. And if one pauses for a bit one can't help but feel the eerie presence of the ships that have wrecked at the foot of these cliffs over the years.
Only Indianapolis could combine the excitement of auto racing with the serene, natural beauty of a championship golf course. Brickyard crossing makes its home in and around the famed Indianapolis Motor Speedway, home of the Indianapolis 500. With holes inside the famed oval one can almost hear the cheering crowds and smell the burning rubber.
This course gives a whole new meaning to water hazard. El Camaleón is dotted with subterranean caves and majestic lagoons with names like "The Devil's Mouth." This course gets its name from the chameleon because of its ever-changing challenges. Also watch out for the sand dunes and mangroves that line the fairways.
Travel back to when dinosaurs walked the earth with fossilized triceratops footprints on holes 11 through 15. Though millions of years later the terrain still excites as well as challenges, locals consider its layout one of the best in the state. Watch out for those boulders!
Operated by the Louisiana State Penitentiary Employee Recreation Committee, this 9-holf golf course gives "shanking" a whole new meaning. Before you can play its greens or book a tee time, a background check is required. Be forewarned that play may be suspended at any time due to institutional need or at the Warden's discretion. Yikes!
You better bring a lot of balls to this course. Don't let the traditional layout fool you, as surprise awaits at Hole 14, which features an island green that can be moved by a cable as far as 218 yards. Once you've lost a couple of balls to the clear waters and catch it on the green you will need to take a ferry to finish out the hole. Land ho!
When you think of playing golf, an active volcano probably isn't the first thing that comes to mind. But that's exactly what you'll face at Merapi Golf Course in Indonesia. Smoke billows in the distance from Mount Merapi as you move through the holes. Small eruptions occur every two to three years, and larger ones take place every 10 to 15 years. The most recent eruptions took place in 2006 and 2010. Dante's Peak, anyone?
On the golf bucket list this course reigns supreme, boasting one of the toughest par-3 holes in the world which is only accessible by helicopter. Legend Golf & Safari Resort is located in the Entabeni Reserve — home to lions, elephants, giraffes, leopards, warthogs, rhinos, buffalos, hippos and other safari animals. Just be careful not to hit a lion with your ball; they aren't known to play nice with others!
Situated in Death Valley, CA, with desolate terrain and summer temperatures reaching 130 degrees, we would think this would be the last place on earth someone would want to golf. The course used to be closed in the summer due to the high heat but now can be played year-round if you feel like breaking a good sweat. As a 1934 guide book put it, "Only the Devil could play golf on its surface." Oh and watch out for the coyotes that roam the greens.