More Presbyopia Treatment Patients for Your Practice! Visit AAO Booth 1623
Ceatus Media Group will be exhibiting at the AAO meeting in Las Vegas in Booth 1623.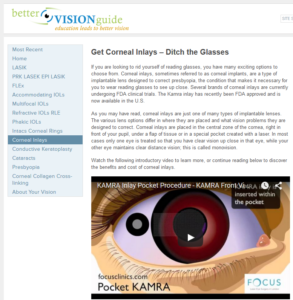 In continuing our innovation for online marketing, we are allowing AAO attendees for the first time to promote their practices in the educational website Better Vision Guide™ (www.bettervisionguide.com). This site now has top online visibility for searches related to KAMRA Corneal Inlay, and other presbyopia correction procedures. We receive many patient inquiries looking for surgeons to perform presbyopia treatments and now eye surgeons can take advantage of this promotion.
We are also offering for the first time for AAO attendees, our new product for reputation management, Ceatus Review Manager.
Please stop by our booth to learn more how we can help you to dominate your online market. Ceatus is a full service concierge-level online marketing company.