Don't Make Decisions Based on Sunk Costs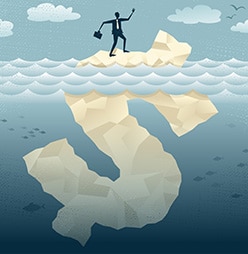 One of the oldest rules in business is not to make decisions based on money that is already spent, i.e. "sunk costs." Savvy business people make decisions that invest in their future.
In today's difficult economic environment, many digital marketing companies are much better at getting you to sign a restrictive contract and getting your money than they are at delivering high-quality online visibility and increased practice revenue. These companies count on the fact that doctors will make decisions based on sunk costs. Their business model is based entirely on the assumption that a surgeon or dentist that thinks he or she is locked into a contract will just sit and take the punishment, even when the marketing company is not performing.
It's Not a Cell Phone
Purchasing digital marketing services is not like signing a cell phone contract where you can commit for a specific time period because everyone essentially receives the same services. To be effective, digital marketing must be customized to your market, practice and competition. Any contract should reflect this approach. Further, the company should have experience in elective health care and understand the procedures and treatments that generate practice revenue.
Their Contract Tells Their Story
If a digital marketing company has a restrictive and/or long-term binding contract, then it's pretty clear that they don't expect to keep your business because of their stellar performance but instead are relying on the fact that you can't get away from them.
What If You Are Stuck?
First, to state the obvious, do not sign a long-term contract without detailed and specific performance requirements. Long-term and/or restrictive contracts are typically very one-sided – i.e. you have to pay and are locked in no matter what, but the company has no requirement to perform. At a minimum, you should be able to opt out in 60 days if the company is not getting it done.
If you find yourself already in a situation where the arrangement is one-sided and you are paying and receiving nothing in return, there are a few options. First, you should approach the company, tell them the relationship is not working and that you want to move on. Marketing companies, just like doctors, do not want bad press or a bad reputation in the marketplace. A bad review or negative word-of-mouth is not good for their business. Most reasonable companies recognize this and want to part ways in a friendly manner.
If you do not want to approach the company or feel you are really trapped in a contract, it is important to recognize that money committed to that company is a sunk cost. At this point you have two choices: you can keep paying and continue to get nothing in return, losing momentum and patients while you wait OR you can move on to a company that can perform, recognizing that the money is already lost and that waiting won't change it.
From a purely business perspective, the decision is fairly obvious. Today, effective online marketing is critical to practice growth. Waiting to implement a successful strategy just delays your success.
Furthermore, it is important to consider that when you do "move on," top-tier online marketing strategies do not just appear overnight. A responsive website with unique content and a personalized design can require three to six months to develop. Similarly, a successful SEO strategy often requires a number of steps before it can be launched, including a comprehensive analysis of the market/competition, thorough review of each page of your website, development of new unique content and fine-tuning your online citations. These steps can require up to 90 days to be accomplished properly. As such, even if you decide to stay in a non-performing contract, it is best to get started with a new company well before the other expires, so that the development and implementation of your strategy is not further delayed.
CEATUS Case Study of the Month
Dr. Grodin – Ceatus Review Manager
Successful Midwest dentist achieves the high ranking he deserves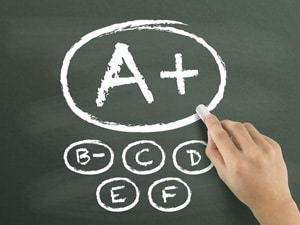 Background: Dr. Alan Grodin is an internationally recognized cosmetic dentist who practices in the Detroit area. He draws clients, including celebrities, from around the world. Ceatus has successfully managed Dr. Grodin's online marketing strategies for more than 5 years. Recognizing the importance of online reviews and reputation management, in 2015 Dr. Grodin again turned to Ceatus — this time to try out its innovative Reviews Manager.
Challenge: Like many dentists and surgeons, Dr. Grodin's online reviews and reputation did not match his true level of skill and experience. His online reviews were not communicating to prospective patients his beautiful results. Before Ceatus' Reviews Manager program, Dr. Grodin's average online score was a disappointing 3.55, essentially a C+. Importantly, he only had approximately 20 reviews spread across 75 different health care websites.
Solution: In April 2015 Dr. Grodin began using the new Ceatus Reviews Manager program, which allows Ceatus clients to monitor their reviews across every health care related website and, importantly, provides a means to effectively encourage happy patients to post new positive reviews. This unique program is offered to Ceatus SEO clients at no additional charge.
By May Dr. Grodin was already achieving major gains! By the end of May his number of reviews jumped to 30 and his average online score was on the rise.
By the end of the year, Dr. Grodin's online reputation reached the stratosphere. The Ceatus Review Manager program helped him increase his number of online reviews to more than 80. His online grade increased from a "C+" to an "A" in the space of 6 months. Dr. Grodin's average online score is now approaching 5.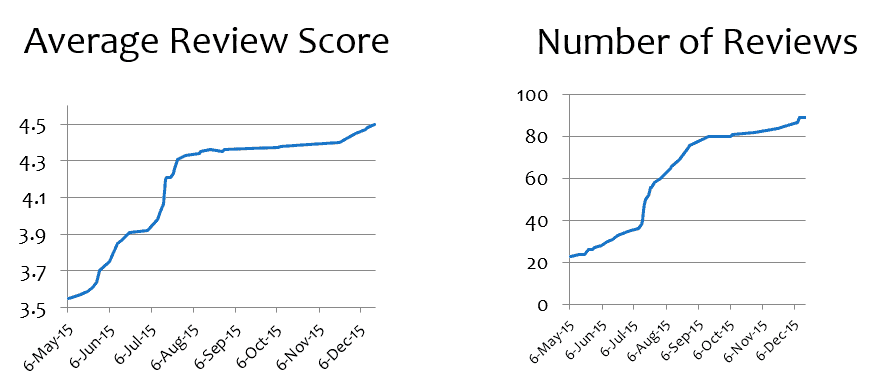 Ceatus also offered Dr. Grodin the opportunity to integrate his newly elevated online reputation into his practice's marketing strategy by feeding his new reviews to his website. Now prospective patients visiting his website can easily see a number of his recent reviews. His conversions and revenue from his website have increased dramatically with the addition of the Ceatus Review Widget.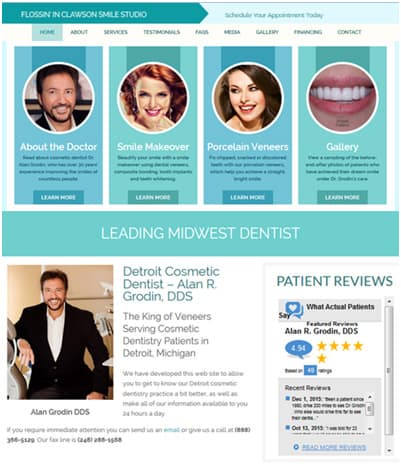 Ask the experts
Q: I'm not seeing a significant number of "new" page Likes/followers on my Facebook page. Should I be concerned?
A: The answer is a qualified, No. While followers are not unimportant, the number doesn't tell the story – it's really about engagement. Followers who are not engaged (e.g. purchased followers) are not likely to "Share," "Like," or "Comment" on your posts. And without this engagement, your brand goes nowhere – even if you have a host of followers. Your focus should always be on content that is socially interesting and shareable; this is what enables you to build your brand and reach quality potential followers who are not in your current circle.
Maximize Your Internet Strategy
Come by the Ceatus booth for a FREE website evaluation!


Cancun, Mexico
January 29 – February 2, 2016
Stop by and meet the Ceatus Internet experts in Cancun, Mexico, at Caribbean Eye.
Also, Ceatus CEO David Evans, PhD, will be leading a discussion focusing on reviews and testimonials, and effective social media strategies. So don't miss it!
Your Online Image Equals the Perception of Your Quality: What Are You Saying?
Sunday, January 31, 2016
11:45 AM – 1:00 PM


San Diego, CA
February 17-20, 2016
Booth 1415
Join us in our home city of San Diego to learn how to give your Internet Strategy a smile makeover.


Chicago, Illinois
February 25-27, 2016
Booth 4843
Looking to defy winter and heat up your website and online marketing strategy? Visit the Ceatus team at Booth 4843 for a FREE website evaluation!
Find out how to grow your practice and increase conversion from your online presence. Stop by our table to talk to a Ceatus Internet marketing expert and get a FREE Digital Strategy Review!
---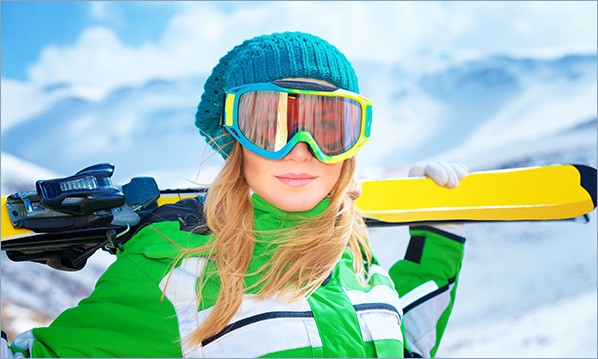 The Mountains Are Calling…
Hit the slopes in style with the latest high-tech gear!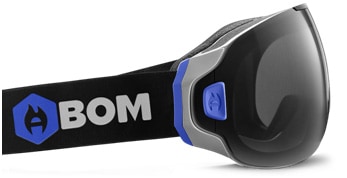 Released in 2016, this goggle may change the anti-fog goggle game. Most anti-fog ski goggles use little fans to help circulate the air inside your goggles and keep them from fogging up. But that doesn't always work. Enter Abom, which works more like the defroster in the rear-window of your car.
The goggle has an invisible heat-conductive film between a two-part lens. Touch a button and a rechargeable battery sends a current through the film to heat the lens and keep it from fogging up.
Battery life is rated at around seven hours, with a boost mode that just gives you a quick anti-fogging for 10 minutes, after which the battery shuts down until you want to use it again.
Price: $250
---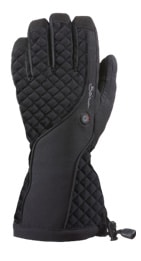 Gloves with built-in heating mechanisms have been around for a while but they are about to get a little more sophisticated. Enter the Seirus Inferno glove, one of the most comfortable and versatile heated gloves out there thanks to its three temperature settings. Battery life varies depending on which setting you choose. At the highest setting, which is possibly the most preferred in cold conditions, you get two hours of battery life.
Price: $375
---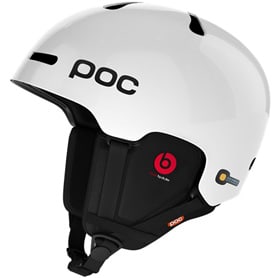 These days, just about everyone wears a helmet when hitting the slopes. If you still haven't tossed out your beanie in favor of safety, there's no time like the present. And not only should your helmet protect your noggin, it should have Beats by Dre quality music pumping through it!
The award-winning Fornix helmet is now offered with Beats by Dr. Dre headphones built into the neck roll. With the remote control, compatible with most smart phones, you can take calls, switch tunes and adjust volume right from the cord.
The helmet is generously ventilated and the size adjustment system makes it possible to customize the fit of the helmet to make sure it stays safe and comfortable in place.
Side Note: This is not a wireless headphone. You will need to snake the cord and attach it to your audio device of choice. But compared to other wireless Bluetooth headphones, the quality is far superior.
Price: $250
---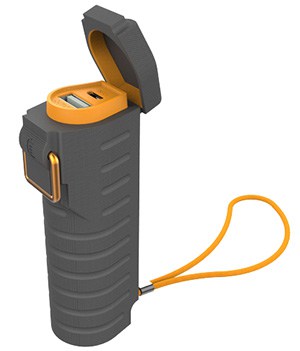 MyCharge's rugged, IP68 military-grade All Terrain external battery charger's water-proof, temperature-proof, dirt-proof and shock-proof design is pretty ideal for skiers.
Featuring two built-in USB ports and a 2.4A output, the All Terrain+ is the perfect portable charger for tablets, smartphones or other USB devices. Charging cords are not included.
Price: $59.99
---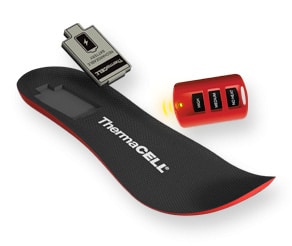 The ThermaCELL ProFLEX Remote Controlled Flexible Heated Shoe Insole isn't marketed for ski boots but it fits inside them (the insoles can be cut to size). With its heat circulating insole and its remote, rechargeable battery that's removable and can be swapped out easily, ThermaCELL is the must-have gadget for skiers and snowboarders alike. Battery life is up to three hours on the highest setting.
Price: $184.99
---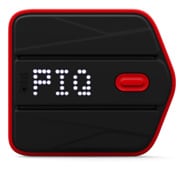 PIQ has one of the best movement tracking sensors available, a feat made possible in no small part by its partnership with Rossignol, the leading brand in ski equipment. PIQ's tracking sensor is small and lightweight. Its companion app shows turns and jumps as well as speed and distance. You can also compare your stats with other users on the same run and distant runs.
Price: $198
---
RideOn goggles give an augmented reality experience, overlaying data directly into your field of view as opposed to presenting you with a little pop-up window in the corner that takes your eyes off the action. Tracking speed, distance, jump height and airtime is to be expected, but RideOn does more by making your runs into a game. As you head down the slope you hit checkpoints and aim for a high score.
Price: $629*
*This item is not yet available but can be pre-ordered on their website.
---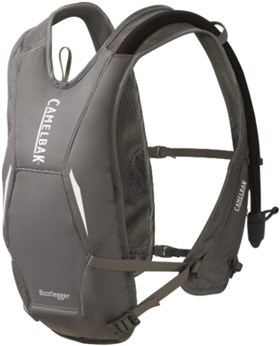 Hydration backpacks have made carrying water during many sports much easier. But when it comes to skiing, hydration packs freeze easily and can be uncomfortable on a chairlift. Camelbak has a new design that promises to make hydration more ski-friendly and chairlift friendly.
The Bootlegger hydration pack is designed to be worn underneath a ski jacket, rather than over it like any other backpack. The idea is for it to be closer to your body, where your core temperature will prevent the water from freezing. The breathable mesh harness is designed to prevent it from becoming too hot and sweaty.
Price: $55
---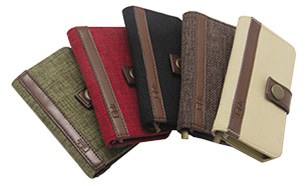 Ever try to take a photo or put on a tune only to find that your phone has frozen due to the cold? SaltCases is the first and only company to offer protection from extreme heat and cold for your portable electronic devices (using NASA technology!). As the company slogan "Timeless Style Meets Modern Technology" indicates, these cases are not only temperature-regulating but also stylish.
Price: Varies