Success of Ceatus Reviews Platform Attracts Attention from Abroad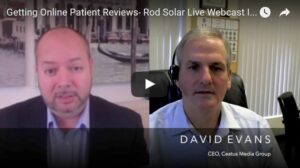 Most doctors are aware of how important patient reviews are, particularly since they have seen the data showing that good reviews directly impact the bottom line. But knowing the importance of a sound practice review strategy is one thing, managing it is another.
We can help.
Ceatus created a special tool to acquire positive reviews and display them to potential patients. The Ceatus Reviews Program has been such a resounding success that it's now attracting attention across the pond.
Last week, the well-known London-based ophthalmology practice management consultant, Rod Solar, conducted a live webcast interview with Ceatus CEO David Evans, Ph.D, M.B.A, to find out more about what makes this program so successful, as well as the potential impact it could have in the U.K. and across Europe.
In the interview, Dr. Evans explained that customers now rely on business reviews — including reviews of healthcare practices — when making buying decisions. The difference between 3 and 5 stars on review platforms such as Yelp and Healthgrades can be the difference between a floundering practice and one with patients knocking down the door.
In the mind of consumers, reviews hosted on third-party sites differ from traditional patient testimonials in that testimonials are solicited by the doctors themselves and provided directly by doctors to patients. Alternatively, reviews on third-party sites are viewed as unbiased, unsolicited and vetted for authenticity, so as a result consumers trust them more.
Statistically speaking, when left to their own devices, happy patients are less likely to leave a review than unhappy patients, which is why it behooves doctors to have a program for acquiring positive reviews. But how? By making it easy for them to do it at the most opportune time; right in your office following their postoperative exam (preferably the day after surgery), when they are wowed by their newfound results.
The Ceatus Reviews Program makes cultivating positive reviews easy by providing happy patients with a link that takes them to the doctor's profile on popular third-party review sites such as Yelp and Google+. They can do it all right there in the office with ease on their own smartphone. The program's screening tool affords less-than-happy patients the opportunity to leave a private message, while happy patients are forwarded on to third party review sites to sing your praises. These positive reviews are then posted on the doctor's website.
Doctors utilizing the Ceatus Reviews Program have been able to double or even triple the number of positive reviews they receive in a matter of only a few months. In Europe, doctors have not yet taken advantage of the power of reviews. This means that those that act now will have a first-move competitive advantage.
To learn more about the Ceatus Reviews Program and how your practice can leverage it to generate more revenue, contact Ceatus today.
To check out Dr. Evans' complete interview with Mr. Solar, click here.
Save
Save