What Makes a Good Review?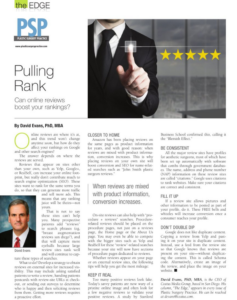 Ceatus CEO David Evans has a monthly column in Plastic Surgery Practice (PSP) magazine entitled Evan's Edge. His column focuses on important news, trends and recommendations about Internet marketing strategies for premier surgeons. His September Evans Edge article tackles the provocative topic of Reviews.
Because of the increasing importance of patient reviews for elective health care practices, a good review strategy is critical. Dr Evans article describes the most critical element of a successful review strategy, specifically, What Makes A Good Review? His article addresses the differences between reviews and testimonials, what consumers look for in reviews and how to take advantage of reviews on the practice's own website. To read the full article click here.
The Evans Edge column has also built quite a following as Dr Evans' most recent article was also picked up and published by the Morrow Institute. Congratulations, Dr Dave!