Dr. Evans' "Art of Removing a Negative Review" Featured in Ophthalmology Management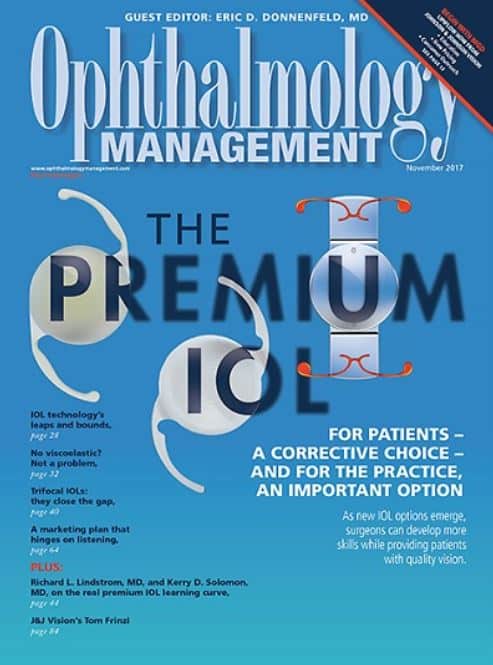 Since premium eye-care practices usually see a high volume of patients, it's inevitable that every practice (and surgeon) will receive a negative review at some point.
According to CEATUS CEO Dr. David Evans, in the recent November issue of Ophthalmology Management, coming to terms with this reality is an essential step to asking the all-important question, "when this happens, what should you do?"
In his piece, "The Art of Removing a Negative Review," Dr. Evans notes that a key component in combatting negative reviews is establishing an effective review strategy which involves actively monitoring the many review sites out there.
Also it is important to note that timing is everything when it comes to combating a negative review. By consistently monitoring review sites, you'll be able to identify a potentially damaging review as quickly as possible, allowing you to take action immediately.
Quickly identifying and managing negative reviews is also all the more important when you consider these two statistics that Dr. Evans' highlights in his article:
88% of consumers use reviews when making purchasing decisions (Source: Better Business Bureau)
A one-star differential in your star rating can change revenue by up to 18% (Source: Harvard Business School)
An effective review management system will allow you to identify negative reviews before potential patients have a chance to see them. Dr. Evans notes that any such system should be automated to be truly effective. At CEATUS Media Group we offer an automated review alert system that provides the necessary components for a comprehensive reviews program (learn more about our CEATUS Review Manager here).
While, incorporating an automated review management system into your practice is essential, it's just one component of an overall strategy for managing negative reviews. Dr. Evans outlines a step-by-step approach to managing negative reviews, discussing everything from contacting the patient who posted the review in effort to remedy the situation directly to taking legal action as a last resort.
All eye-care practices are going to encounter negative reviews from time to time. How a practice handles this inevitable adversity is ultimately what's most important.
To read Dr. Evans' full article, click here.