July 2017 Ceatus Chronicles
Which Review Sites are Most Important?

Elementary, My Dear Watson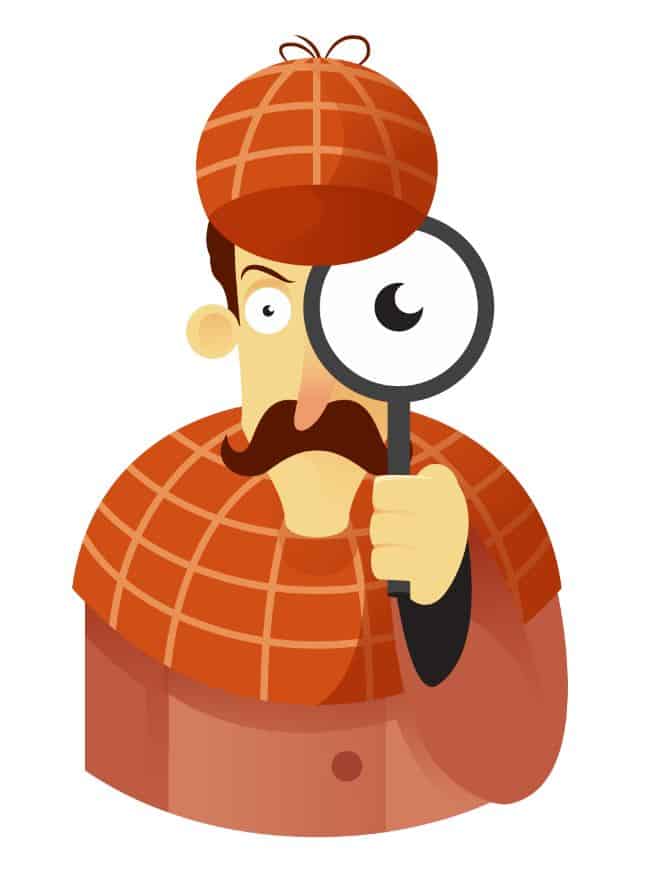 Reviews have become a powerful form of online advertising, to be ignored at your peril. Nielsen data shows that potential patients believe online reviews just as much as a word-of-mouth referrals from friends or family members. Reviews also significantly impact buying decisions. A Better Business Bureau report shows that 88% of consumers use reviews when making purchasing decisions. And as if this wasn't enough evidence, a now famous study from Harvard Business School shows that a 1 star differential in your star rating can change revenue by up to 18%!! All this adds up to one thing: You and your practice staff must be proactive about obtaining positive reviews.
Creating a highly positive online reputation is more challenging for healthcare providers than for other businesses. The reason for the added challenge? Healthcare reviews span a myriad of review sites. In addition to the usual consumer review sites such as Yelp, Google, Facebook and YellowPages, there are numerous review sites tailored specifically to healthcare, such as Vitals, RateMDs, HealthGrades, UCompareHealth, RealSelf…the list goes on and on. Unfortunately, some so-called "reviews experts" have been suggesting that a practice only needs to target two to four reviews sites. This recommendation is complete nonsense and does a great disservice to doctors and dentists and their practice revenue. Read on to learn more…
We Captured Real Healthcare Consumer Data
At Ceatus, we are in the unique position of being able to reach consumers directly through our large healthcare-related educational websites. These sites specifically target potential patients interested in plastic surgery, dentistry and eye care. We promote our clients to the hundreds of thousands of prospective patients who visit the sites each month. In addition, these sites give us a great vehicle to study how consumers research procedures, and the doctors who offer them. (Incidentally, one of the reasons we are a successful SEO company is because we constantly glean insight into consumer behavior through our large educational websites. We have consumer data that our competitors couldn't dream of obtaining.)
Given the astounding level of disinformation about review sites being disseminated, particularly to healthcare professionals, we decided to reach out directly to consumers and find out the truth. And the truth was astonishing, as you will see below. We placed surveys on our large consumer sites: www.yourplasticsurgeryguide.com for plastic surgery, www.bettervisionguide.com for eye care, and www.yourdentistryguide.com for dentistry. These sites receive more than 75,000 visitors per week.
We asked two very simple and straightforward questions about review sites:
1) Which review site is most important to you when researching an eye doctor (or plastic surgeon or dentist)?
2) Which review site is least important to you when researching an eye doctor (or plastic surgeon or dentist)?
The results were different for each specialty, clearly demonstrating that a one-size review strategy does not fit all types of practices, contrary to what is suggested by many review companies. Different specialties must target different review sites to be most effective, and the review platform must be flexible enough to meet this requirement. The ranking order of the most and least valuable sites is shown below with ratings of 1 thru 10; 1 being the highest and 10 being the lowest rank. All results are based on at least 200 consumer responses.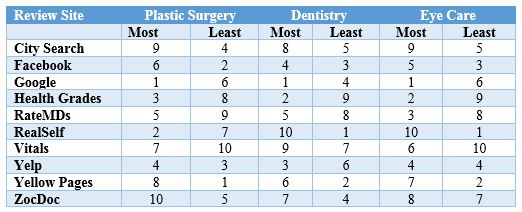 The data shows that Google is very important for reviews but is not the "end-all-be-all." While some rated Google as the most important review site, a large group of potential patients rated Google as one of the least important sites. The data also shows that recommending that practices target only a few sites, including Yelp and Facebook (as some companies do), is a highly flawed strategy. Why? Because, while it's true that these sites are "well known," they are viewed by many consumers as having low value. For example, in Eye Care, Facebook is rated the fifth most important review site and the third least important. This means that four other sites are seen by a large portion of consumers as more important than Facebook and only two sites are seen as being less important than Facebook. Facebook is, to a large group of potential patients, viewed down there with the Yellow Pages in terms of its value as a review site for elective healthcare providers. The data also shows that consumers value the healthcare specific sites, HealthGrades, RateMDs, Vitals and RealSelf (but only in plastic surgery for RealSelf).
What does all of this mean? It means that different consumers place different value on the different review sites. It also means that even if a majority of prospective patients place limited value on, for example, Facebook, there are still those that believe it has greater value than other review sites. If all of this sounds a bit complicated, fear not. The solution is fairly simple. To capture the full range of potential patients and create the best online reputation for you and your practice, a balanced strategy is required.
We developed the Ceatus Review Manager to cover the full range of review sites. This ensures that your reputation is protected across the spectrum of sites where prospective patients find value. The comprehensive nature of our Review Manager is why our proprietary system has been so successful and why so many doctors are leaving both "general marketing" as well as "review-only" companies to join us. Also, our great customer service makes it easy to be part of the Ceatus family. When you call, you get straight through to your account manager or your client services representative who know you and your practice, and never a call center.
To learn more about how consumers use reviews to make buying decisions in elective healthcare, or to see a demonstration of the Ceatus Review Manager, please contact us.
Internet Tip of the Month
To Video or Not to Video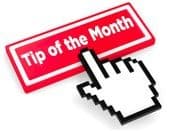 Many practices are being sold the idea of placing video as the background of their websites.
While this can be an intriguing strategy, it's important to keep in mind that not all video is included as a feature on mobile and, depending on the size of the video and user's connection, there are frequently issues with how well it plays. Since upwards of 60% of people who visit elective healthcare websites now do so via mobile devices (and this number continues to rise), this means that the majority of your website visitors may not see the background video you spent a lot of money on, begging the question, what will they be seeing?
If you do choose to incorporate background video, make sure that the files are properly compressed because video files can be "heavy" and slow your website load time, negatively affecting your Google rankings and conversion.
Bottom Line: It's important to keep these statistics in mind when determining how to allocate the budget for your website design and development. Videos can be great, but other features also have potential conversion power and may give you more bang for your buck.
Ask the experts
Q:I'm thinking of investing in a Pay Per Click (PPC) campaign. What kind of ROI can I expect from PPC?
A: When implemented properly, you can expect an ROI of 5 to 1 or greater from your PPC investment. To maximize your ROI, four key factors should be the focus of your PPC manager: Budget, Location, Ad Rank and Campaign. These components all need to be working together synergistically in order to be effective. It is best to use an agency whose personnel have been certified by Google*.
*All 5 of the PPC managers at Ceatus have the Google certification and Ceatus is a Google Partner!
Questions about your PPC Strategy? Call us today at 858-454-5505 or email us at contactceatus@ceatus.com.
Events
Maximize Your Internet Strategy
Come by the Ceatus booth for a FREE website evaluation!

San Diego, CA
August 3-5, 2017
Expand your online footprint with Ceatus concierge Digital Strategies! Our Digital Marketing Experts will be standing by to answer any and all of your Digital marketing questions.

Lisbon, Portugal
October 7-10, 2017
Booth P174
Ceatus Media Group will be at the upcoming ESCRS conference in Lisbon. Join Ceatus CEO David Evans, PhD and Ceatus VP Marketing Tamara Evans for these must-see digital marketing and social media presentations. Hope to see you there!
"Effective Digital Marketing and Social Media Strategies that Increase Patient Volume"
Tamara Evans
Practice Management & Development Programme
Sunday, October 8
5:00pm – 6:00pm
Room 4.4
"Internet Marketing in the Digital Age: How to Achieve Practice Success"
David Evans, PhD
Practice Management & Development Programme
Monday, October 9
5:00pm – 6:00pm
Room 4.6

San Diego, CA
October 12-14, 2017
Looking to heat up your Digital Marketing strategy? Visit the Ceatus team at Booth 621 for a FREE Digital Marketing Evaluation!

Atlanta, Georgia
October 17-18, 2017
Give your Internet strategy a smile makeover. Visit our booth to learn how to increase your conversion and start bringing new patients to your door!
Not attending any of these shows? Give us a call (858-454-5505) for a FREE Digital Strategy Evaluation!
Product Highlight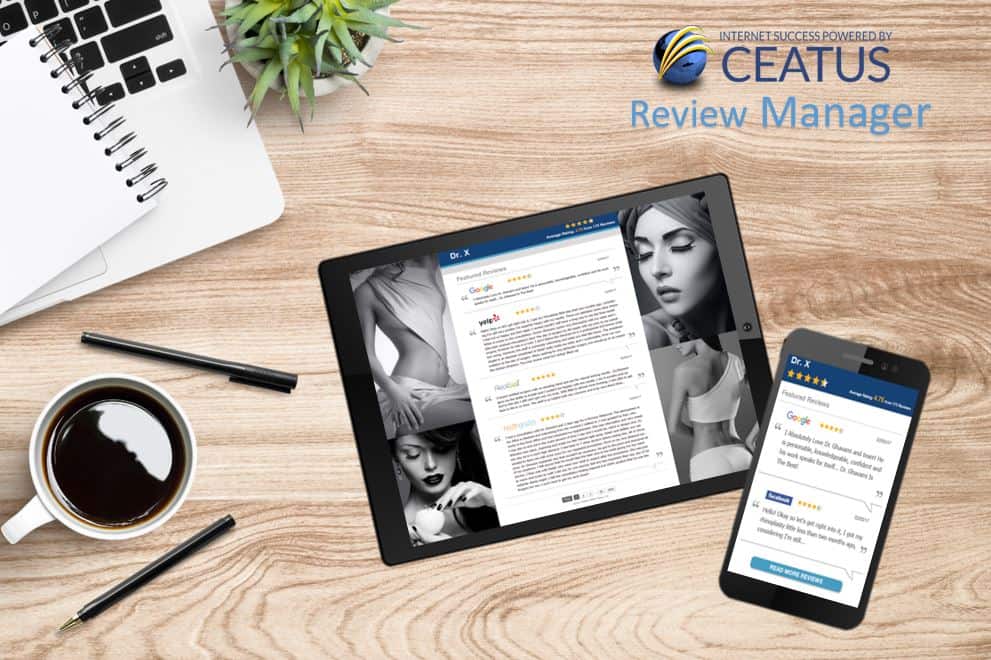 CEATUS Review Manager
A now-famous Harvard study found that Revenues are directly tied to Reviews. Data from the study revealed that businesses with review scores changing by only 1 star realized a not-insignificant revenue swing of 18%.
The CEATUS Review Manager is the only program that creates an online review footprint for you and your practice (based on 75+ review sites) that matches up with the way consumers use reviews to make buying decisions about procedures and the doctors and dentists who perform them.
Turn the tables on the major review sites and take control of your online reputation today!
Get your Free Reputation Analysis and learn how you can get started by calling us today at 858-454-5505.
Click here to read more about the Ceatus Review Manager...
Save
Save
Save
Save
Save
Save
Save
Save
Save
Save
Save
Save
Save
Save
Save
Save
Save
Save
Save
Save
Save
Save
Save
Save
Save
Save
Save